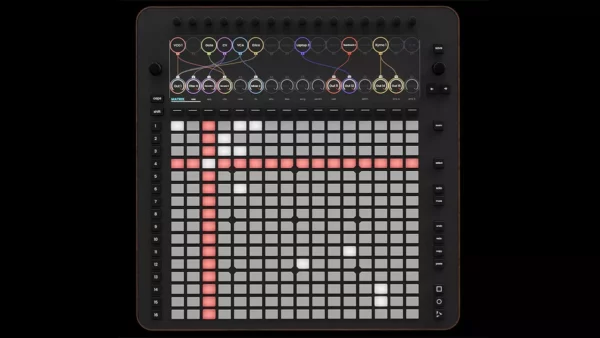 Reliq is a new matrix-based "hybrid control surface" that can be used to route and mix audio, sequence your music and control your DAW.
The majority of Reliq's top surface is taken up by a 16×16 grid of buttons. This can be used to connect any input to any output with a single press, and you can store and recall signal routings in real time.
When in its sequencing guise, Reliq offers 16 polyphonic sequencers, while modes include Euclidean and Stochastic. You get eight voices of polyphony and 128 patterns per track, an LFO and envelope per track, real-time parameter recording and MPE compatibility.
When it comes to modulation, you can draw automation, LFO shapes and envelopes on the button grid.
DAW control features the option to trigger loops and clips, adjust mixer and instrument settings and arrange clips. A dedicated plugin enables you to sync and control Reliq from your DAW, as well.
Naturally, there's plenty of I/O:  three MIDI Outs, one MIDI In, USB-C MIDI, USB Host, 16 x gate and 32 x CV, reset out and clock out. The CV/gate connectivity and 16×16 matrix I/O comes in its own Eurorack-compatible case; this can be powered from the main Reliq unit via USB-C or a Eurorack power supply.
It's difficult to know what to make of Reliq without seeing it in action. There are no videos to watch at this stage, but you can sign up for a launch invite on the website and receive a discount. The standard price will be $1,699.
Das Keyboard 6 Professional - Begin to enjoy your modern workday.
Jazz Up Your Valentine's Day With Filmora
Filmora 12
Edit Anywhere,in Every Way.
New Year's Eve Party
Sam Ash Holiday Deals
AmpliTube 5 MAX $/€99.99 deal
MAX Madness - up to 83% off MAX music software bundles
TONEX Pedal
Christmas Tree Video
---