Presteign Sound Labs has introduced Macro, a free Rack Instrument for Reason, based on Mutable Instruments Plaits Eurorack module.
Macro is designed to be two things at once: a self-contained synthesizer with a unique sonic palette that you can use immediately, and a module that makes that palette easy to use as a starting point with other devices.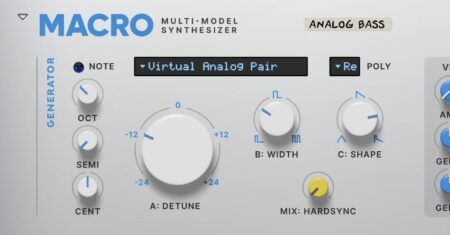 Presteign Sound Labs says:
"The goal is to fuse the immediacy of a standalone synth with the flexibility of a Eurorack module – and there's no other environment that can support both to the degree that Reason does.
If you're not familiar with the original hardware, some of Macro's design decisions might seem strange at first. Where's the filter? Where are the envelopes? Those are all packaged into Macro's lowpass gate, a simple filter and VCA where the same release-stage or ASR envelope controls both. This may seem limiting at first, but you might be surprised at what you can do with it!
Of course, that's only half the story. Just like in Eurorack, if you want more complex envelopes, filters, or other modulation or effects, all you have to do is add them! Between Pulsar's LFO and envelope generator, Sweeper's secret treasure trove of filters, and all the other tools in Reason's toolbox, Macro is the perfect foundation on which to build a modular masterpiece."
Macro is available now as a free download.
---