Digital Pianos
Electronic Keyboards
Organs
Pianos
Player Pianos
World Instruments
Electronic Music
Audio Samplers
Audio Sequencers
Drum Machines
MIDI Interfaces
Production Stations
Sound Modules
Tabletop Synthesizers
Das Keyboard High-Performance Mechanical Keyboards
The World's First Cloud Connected Keyboard.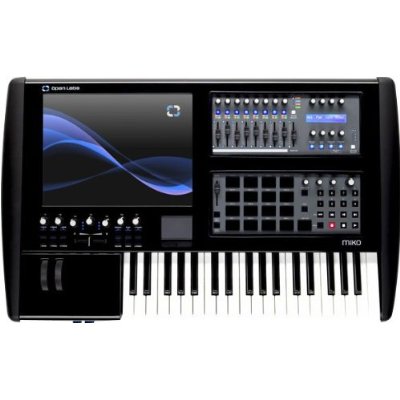 The Open Labs Miko LXD is the latest addition to the Open Labs® products line. This revolutionary instrument is the all-in-one production station with the ability to record instruments, utilise VST and delivers the final product. The Miko LXD features 37-key semi-weighted synth action keyboard (world-class Fatar technology), external QWERTY keyboard, 15 inches touchscreen and using WIN® OS. The Miko LXD is a totally new class of portable keyboard instrument. This contemporary portable musical instrument is for gigging musicians, contemporary musicians and music producers.
The Miko LXD is also equipped with DJ/VJ controllers to spice up your live performances, new Bump MPTM integrated drum module, allow musicians to create beats, trigger any sounds, sample or loop in real-time.The Miko Lxd is compatible to almost any music applications and plug-ins, including Pro ToolsTM to NuendoTM, Native InstrumentsTM KompleteTM to SpectrasonicsTM OmnisphereTM. The new Mix controller has multiple assignable controls like 8-Encoders, 8-Faders, 8- Lighted buttons, 4×4 Banks and a Master fader whereas the Edit controller has 8-Encoders, 4-Buttons, 4-Banks and LCD display.
This compact musical instrument weight approximately 39.2 lbs. The Miko LXD has hundreds of instruments sounds for you to choose from and large storage capacity for downloads, with Firewire, USB, PCI EXPRESS and an Ethernet port, access to the Internet via a broadband connection is a breeze. If you are looking for a portable multimedia production station that can create beats, multitrack , and DJ/VJ all in one piece of musical instrument, then the Open Labs Miko LXD is The instrument !
Electronic Keyboards
Digital Pianos
Portable Keyboard
Synthesizers & Workstations
Free shipping on most items over $9.99!
---