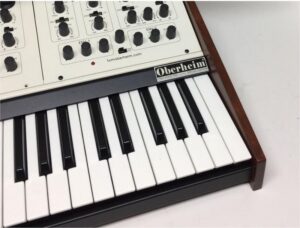 Oberheim returns with TVS Pro Special Edition.
The Tom Oberheim new website has an announcement of a new Oberheim-branded version of the classic Two-Voice Synthesizer.
Tom Oberheim lost control of his brand after the initial explosion of interest in synthesizers led to extremely rapid changes in the industry, including Bob Moog and Dave Smith. By 1988, Gibson owned the Oberheim brand, and controlled it for decades.
Back in 2009, Oberheim began reissuing some of his favorite synth designs under the 'Tom Oberheim's brand, with the Synthesizer Expander Module. And in 2016, he introduced an updated version of his favorite synth design, the Two Voice, as the TVS Pro. The TVS Pro is an updated take on the original Two Voice design, which packaged two of the SEM all-in-one synth voice modules, together with a step sequencer, in a flexible keyboard design. Additionally, the TVS Pro retained the same synth voice as the original, but added an advanced step sequencer, an improved keyboard and more.
In 2019, Gibson granted possession of the Oberheim brand and intellectual property back to its original owner and founder, Tom Oberheim.
With the new TVS Pro Special Edition, Oberheim is bringing back the TVS-Pro as a Special Edition, with each unit now having the original Oberheim logo badge, plus Tom Oberheim personal signature.
However, we are unable to find any additional details regarding the specifications or pricing on the site, but there is a contact form on the site which enable you to request additional information.
Nevertheless, the Oberheim TVS Pro Special Edition is available for pre-order, with information on delivery scheduling to be announced later this year.
---