Electronic Keyboards
Digital Pianos
Portable Keyboard
Synthesizers & Workstations
Free shipping on most items over $9.99!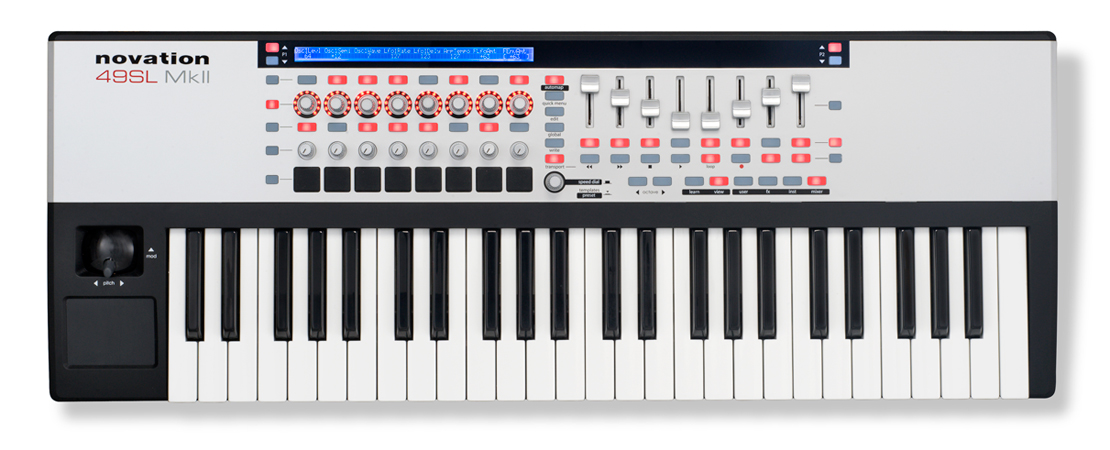 Novation introduced the critically acclaimed SL MKII ranges of DAW Controller at Winter NAMM 2010 in Anaheim, California. The Novation 49 SL MKII MIDI Controller Keyboard features 49-key velocity sensitive, Fatar semi-weighted action keyboard with after-touch. The Novation 49SL MKII incorporates giant 144-character ultra bright LCD screen, Automap 3 PRO Control software, Assignable Controls; 16 knobs and 8 faders with touch sensitive and 32 buttons with integrated LEDs, Octave buttons with LED indicator.
The Novation SL MK II most obvious enhanced feature as compared to the SL MKI is that now all the sliders and knobs are touch-sensitive. Another enhanced feature is each of the eight parameter positions in the display can be controlled by the rotary encoder for rapid adjustment. Similarly, you can just touch the encoders to navigate the menu layers and it is as fast as the wind for users. The Automap 3 PRO Control software biggest asset is Keystroke Assignment, this enables almost any QWERTY or ASCII keyboard shortcut to be instantly assigned to the SL Mk II controls, providing unprecedented DAW control. The Automap 3.0 also introduces 'Autoview', where the 'heads up GUI' can be programmed to automatically appear displaying the present status of all controls whenever a controller is touched and then disappear upon release.
Overall, the Novation 49 SL MKII features are very professionally enhanced. Quick and easy usability for the masses and affordable for the budget conscious musicians. The Portable keyboard weight 5.2 kg.
Digital Pianos
Electronic Keyboards
Organs
Pianos
Player Pianos
World Instruments
Electronic Music
Audio Samplers
Audio Sequencers
Drum Machines
MIDI Interfaces
Production Stations
Sound Modules
Tabletop Synthesizers
Das Keyboard High-Performance Mechanical Keyboards
The World's First Cloud Connected Keyboard.
---