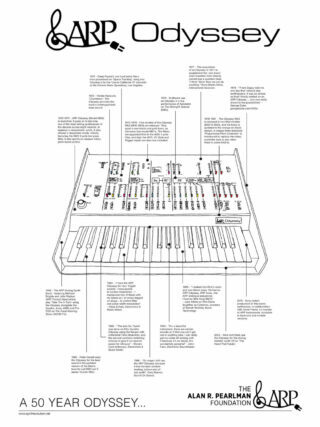 The Alan R. Pearlman Foundation has introduced a new poster, celebrating 50 years of the ARP Odyssey synthesizer.
The poster is designed for the Foundation by Oli Freke, author of Synth Evolution. The poster features Freke's illustration of the Odyssey, along with milestones in the synth's history.
Oli Freke is a London-based musician, artist and author who has had a life-long passion for analog synthesizers and electronic music. He has spent twenty years in the music industry, variously supporting the Human League on tour with his electro band Cassette Electrik, writing music for television and seeing success with dance tracks, which placed in the UK club charts.
In the last few years, he's published Synthesizer Evolution, an illustrated book that celebrates the impact of synths on music and culture, and created the Synth Evolution posters, that show the evolution of synths through hundreds of illustrations.
The ARP Odyssey prints are poster sized 18 x 24, and printed using the Giclee process on archival matte paper, suitable for framing.
The ARP Odyssey prints are available now for $45. Freke's other designs are available via the Synth Evolution website.
The Alan R. Pearlman Foundation is a 501(c)(3) non-profit organization, dedicated to preserving the legacy of inventor, musician, entrepreneur and engineer Alan R. Pearlman.
---