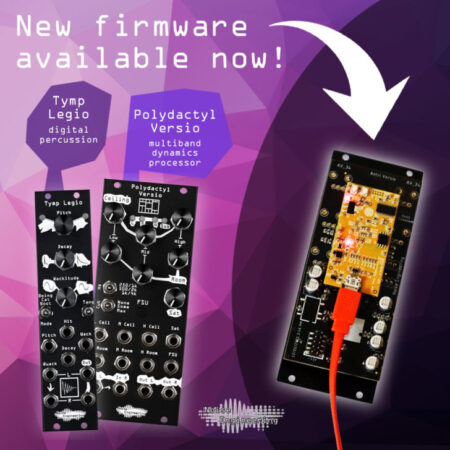 Noise Engineering has announced the availability of the firmware for their new Tymp Legio (12/8/22) digital percussion and Polydactyl Versio multiband dynamics processor.
Legio and Versio are two digital module hardware platforms. Each platform can load multiple firmwares, so a single module can be used for a variety of functions.
If you own any Versio or Legio module, you can try out these new modules for free, by downloading the firmware.
Find out more on the Noise Engineering website.
Jazz Up Your Valentine's Day With Filmora
Filmora 12
Edit Anywhere,in Every Way.
New Year's Eve Party
Christmas Tree Video
Sam Ash Holiday Deals
AmpliTube 5 MAX $/€99.99 deal
MAX Madness - up to 83% off MAX music software bundles
TONEX Pedal
Das Keyboard 6 Professional - Begin to enjoy your modern workday.
---