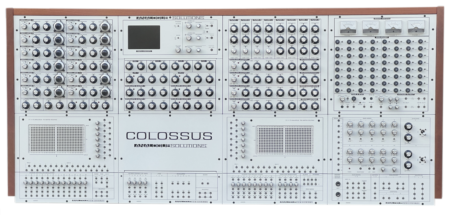 Analogue Solutions has announced the availability of the Colossus AS200 Slim, a space saving version of their original Colossus monster synth.
British boutique electronic instruments company says the Colossus is an all-in-one modular synth that takes stylistic inspiration from the classic EMS Synthi 100, but the circuits are Analog Solutions' own analog designs.
As they say, "This synth is purely for those who want it just as it was in the 1970s – but new with parts still in production."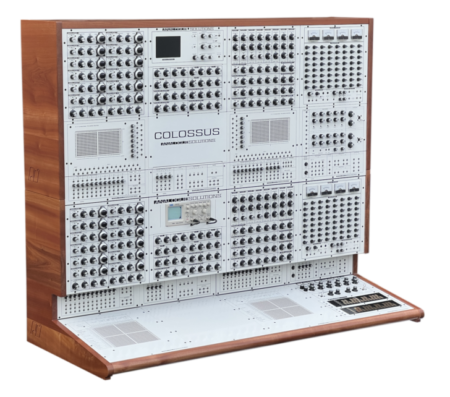 The Colossus AS200 Slim has a 50% smaller footprint than the original. It is designed for users that like the idea of the Colossus, but do not have the space.
The AS200 can also be used as an add-on to the original Colossus to create a mega-monster synth:
How the Colossus Slim compares to the original Colossus:
Gains over the Classic version:

Smaller foot print – over 50%
More mixer inputs.
Fully independent pin matrices (not internally wired to anything).
Lower price tag.

Classic Gains over the Slim:

Larger pin matrices.,
Touch keyboards.

Standard and Options

Colossus slim comes with a two channel LCD oscilloscope as standard.
A CRT scope is available as an option (£500+VAT).
There is a blank panel near the middle which is there for probably future urges.
Preview of the Mega-Colossus Double Stack in action:
The Colossus AS200 Slim is available to order, priced at £23,500.00 GBP (excluding VAT and delivery) — directly from Analogue Solutions, with delivery time expected to be within two to three weeks or order.
---