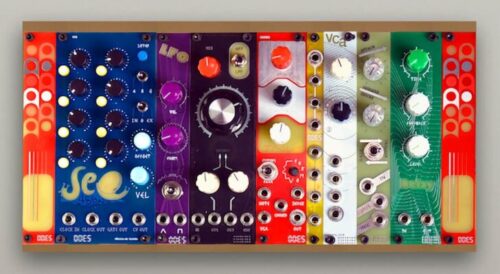 Oficina de Sonido has launched a Kickstarter project to fund production of My First Modular System, an open-source modular synthesizer.
What they say about it:
"We know that synthesis with Eurorack can seem inaccessible due to its reputation for being expensive and complicated.
That's why we decided to design a modular system that is affordable without compromising on quality. My First Modular is a low cost eurorack modular system, with a precise selection of modules for beginners, versatile and with simple and colorful interfaces. As we are designers and musicians we have made an instrument with the basics to express your musical creativity.
This Opensource design proposal aims to be the most accessible eurorack modular system that exists, where anyone with a little knowledge can use our templates and codes to produce their own modules and, like us, improve them and make them available to the whole community.
This kickstarter project will allow us to finance the development and manufacturing of the first complete systems, therefore the current price is only for this campaign. Most likely in the future the price of the system and the modules may vary."
Features:
8 modules (Vco chords, sequencer, Filter, LFO, MultiMix, VCA, AD/AR, Delay)
4 Art Blank Panels
8 Patch Cables (2x10cm, 4x20cm, 2x30cm)
66 HP Case
Power Supply
Power Bus with 10 sockets (10pin)
8 power cable 16pin (10cm)
24 screws
My First Modular System is available to backers for MX$11,350, or about $660 .
*Note: Crowdfunded projects involve risk. See the project website for details.
---