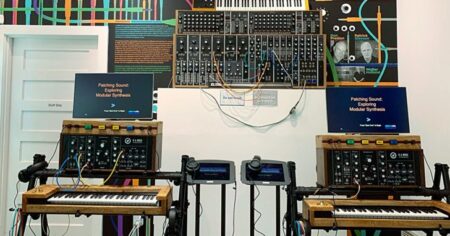 Bob Moog Foundation – an independent non-profit organization dedicated to preserving the legacy of synth pioneer Dr Robert Moog – has announced a new exhibit at the Moogseum that lets you explore the fundamentals of modular synthesis.
Patching Sound: Understanding Modular Synthesis introduces a new area in the Moogseum, where you can learn about synthesis by patching sounds in a hands-on exhibit, and learn about the history of synthesis from historical instruments.
The exhibit was made possible by a generous donation from Dave and Karen Rossum, with additional support from the North Carolina Humanities an affiliate of the National Endowment for the Humanities. It joins a variety of other interactive exhibits that provide Moogseum visitors with an engaging educational experience.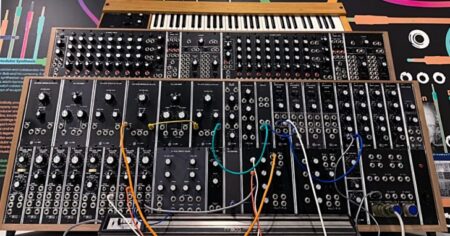 A fully restored Moog modular synthesizer from 1968 is the centerpiece of the new installation.
The system was originally owned by Patrick Gleeson, founder of legendary Different Fur Studios in San Fransisco, California. It was then sold to lauded synthesist Don Preston of Frank Zappa's Mothers of Invention, who used it on recordings and on tour, as well as on the soundtrack for Francis Ford Coppola's Apocalypse Now. Walter Holland of Holland Synthesizers was its most recent owner.
The synthesizer is now part of the Bob Moog Foundation Archives and will be used for future educational and musical endeavors. It underwent a months-long restoration by Stephen Masucci.
"We are thrilled to be offering this new exhibit to the thousands of visitors that come to the Moogseum each year," noted Michelle Moog-Koussa, Executive Director of the Bob Moog Foundation and the Moogseum. "Our goal is to inspire them through the power and possibilities of modular synthesis, and to spark a sense of sonic discovery that they can carry forth into other areas of their lives. We are grateful to the many people in the synthesizer community who have come together to help make this exhibit possible."
See the Moog Foundation website for details.
---