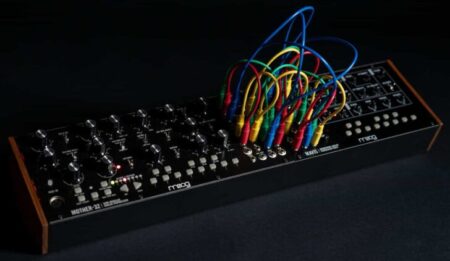 Moog's Powered Cases are similar in design to the STG Soundlabs Boatrocker,  introduced in 2019.
Moog Music has introduced Powered Eurorack Cases, designed to compliment the company's line of Eurorack-compatible all-in-one synths, like the Mother-32 and DFAM.
Featuring a durable aluminum case with wood sides, the Moog Powered Eurorack Case offers a versatile solution for expanding your setup of Moog's semi-modular family of synthesizers, and the case's angled extrusion mounts into Moog 2-Tier, 3-Tier, and 4-Tier Rack Kits.
The 60HP cases can be combined in racks with their 60HP Eurorack synths, while the 104HP Eurorack cases supports creating larger custom systems.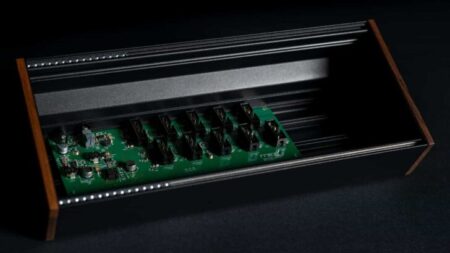 Moog Powered Eurorack Case features Eurorack-compatible 16-pin power connectors and is designed for low-noise performance, high efficiency, and convenient input voltage compatibility.
To ensure clean power, the power supply circuit is designed with an additional layer of high-frequency noise filtering at each individually isolated power connector. Electrostatic discharge and overloading protection on the power input and power output sections are designed to keep your gear even further safeguarded.
Other features include multiple power indicator LEDs to alert you if any of your power cables are not properly connected and need re-orienting, ensuring your system is fully operational before finally mounting of your modules. Once assembled, all modules can be turned on or off as a system, using the rear-mounted power on/off button.                                                Moog Powered Eurorack Case is available in 60HP for $299 and 104HP for $349. Find out more on the Moog website.
---