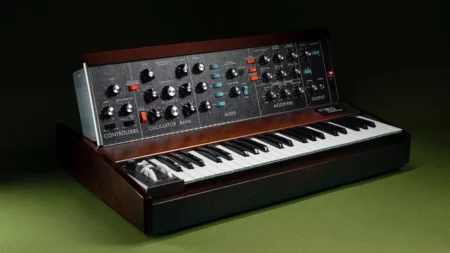 The iconic Moog Minimoog Model D synth is back in production and looking better than ever.
Moog Music today announced the return of the classic Minimoog Model D analog synthesizer.
Considered by many to be the greatest synth of all time, the original Minimoog Model D was released in 1970. It remained on sale for just over a decade, before production ceased in 1981.
We are assured that this new version has the same sound engine and signal path as the original, with a few modern updates, while also retaining the modifications that were made for the 2016 reissue.
These include a dedicated analogue LFO with triangle and square waveshapes, a Fatar keybed with velocity and after pressure available via top panel CV jacks with onboard trimpots, MIDI integration, improved pitch wheel calibration, and a mixer feedback modification that enables you to overdrive the Minimoog Model D and make it scream simply by turning a knob.
New features for 2022 include a spring-loaded pitchwheel that will centre itself when it's released and updates to the MIDI functionality.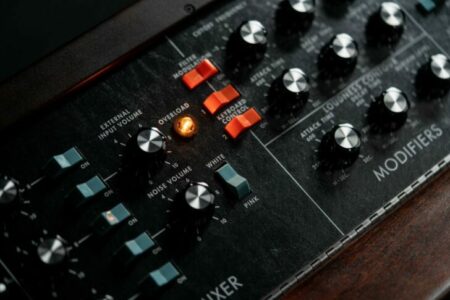 The Model D is built by hand inside the Moog factory in Asheville, North Carolina, and each instrument is housed in a locally sourced Appalachian cherry cabinet with a legacy-inspired walnut stain and hand-finished aluminium chassis.
Here's a behind-the-scenes look at how the Model D is built, from our coverage of Moogfest 2016:
Here's a look inside the Model D, and some background on what was involved in recreating the original design:
To celebrate the reissue, Moog shared this performance by the Will Gregory Moog Ensemble of Archimedes Screw, a live performance by 11 musicians—with each of the 10 keyboardists using a Model D to add layers of sound to the composition as it builds.
Utilizing MIDI integration for the 2016 and 2022 reissues, and MIDI-to-CV converters for the vintage units involved in this performance, the Moog Ensemble highlights the modern features alongside the classic sound. According to the group's musical director and composer, Will Gregory, the instrument's enhancements expand Model D's realm of sonic possibility.
In addition to reintroducing the Minimoog Model D, Moog announced that the Minimoog Model D app for iOS and macOS is now 50% off for a limited time, and announced new Minimoog accessories. The Minimoog Model D is available to pre-order for about $5,000.
---