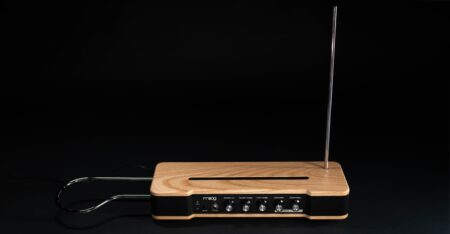 Put your hands in the air for Moog's new Etherwave Theremin.
Moog Music today introduced the Etherwave Theremin, an updated version of their classic Etherwave design. The iconic synth brand's take on the famously hands-off electronic instrument.
As you know, the theremin is played by moving your hands in the air near two metal antennas, one of which determines the pitch and the other the volume. You can play higher notes by moving your hand closer to the pitch antenna, while moving your hand away from the volume antenna increases the volume.
Unique electronic instrument can also control your modular synths.
This new version promises improved bass response and stability at the low end, updated antenna connections to make the instrument easier to assemble and take apart, and a quick-release mic stand adapter for easy mounting.
In addition, there is a new Mute control that enables you to put the theremin into standby mode or use 'pitch preview' in your headphones, and you get the CV output connectivity (Gate, Pitch and Volume) from the Etherwave Plus, for connection to other modular gear.
New features:
Improved bass response and stability in the lowest registers
Updated antenna connections to enable quick assembly and easy removal for travel
Quick-release mic stand adapter for attaching and detaching the instrument from mic stands
Mute control for setting the instrument into a standby mode or used for "pitch preview" via headphones
CV output integration from Etherwave Plus (Gate Out, Pitch Out, Vol. Out) for connecting with other modular, Eurorack, and CV-controlled instruments
Moog is also offering a custom-fit, tear-resistant case for the Etherwave so that it'll be safe and secure when you are on your travels.
Bob Moog built his first theremin at the age of 14, and the original Etherwave was his final theremin design.
The Etherwave fills out Moog's theremin line with a powerful mid-tier design, complementing their more affordable Theremini and their flagship Claravox.
Live performance by Austin-based electronica group The Octopus Project, performing their original track I Saw the Bright Shinies in the Moog Sound Lab:

Yvonne Lambert, Spencer Stephenson, Toto Miranda, and Josh Lambert reimagine their 2007 song using vintage and modern Moog synthesizers: Moog One, Prodigy, Matriarch, Grandmother, Mother-32, DFAM, Subharmonicon. Not only is the theremin the lead instrument, but it's also being used as a CV controller for the Moog Matriarch synth.
Audio Demos:
Moog has also released an EP, Lost in the Ether, composed and performed by French thereminist Grégoire Blanc, that showcases Etherwave Theremin:
Moog also plans a series of interactive online workshops, for registered Etherwave Theremin owners, featuring theremin superstar Dorit Chrysler.
The Moog Etherwave Theremin is available now with a street price of $699.
---