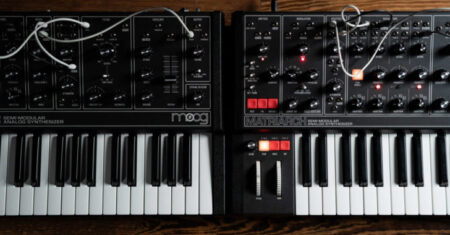 Moog has announced that it's ending production of the Dark Series versions of the Matriarch and Grandmother keyboard synthesizers.
"Originally released with distinct multi-colored overlays, Grandmother and Matriarch have become staples in studio setups and live performance settings, go-to synthesizers for beginners, and multifaceted creative tools used by musicians of all skill levels to explore the power of analog sound.
The all-black aesthetic of Dark Series came about as a nod to the modular control panel designs that inspired their very creation. The circuitry, spirit, and analog effects of Grandmother and Matriarch are derived from the classic Moog modular synthesizers designed by Bob Moog himself during the '60s and '70s.
Dark Series for Matriarch and Grandmother strikes the perfect balance between classic and modern with a timeless look of early Moog modular systems—and with all the functionality and versatility these two state-of-the-art sound design machines are known for."
The original colorful versions of the Matriarch & Grandmother remain in production.
A live performance by synthesist Lisa Bella Donna that features the Dark Series synths:
---