Modbap Modular is now shipping Trinity, a three-channel digital drum synth module, and Hue, a multi-effects processor.
Modbap Modular debuted Trinity at Knobcon 2022, a three-channel Digital drum Synth Array, and the fourth entry in its expanding Eurorack product lineup.
The name Trinity refers to the 3 drum channels – Kick, Snare and Hat. Trinity features an array of drum synth algorithms that use various types of synthesis (Analog Inspired, Additive, FM & Noise). This allows for a wide range of drum design capability that achieves and reaches far beyond the conventional kick, snare and hat.
Trinity's array of digital drum synth algorithms are very malleable by way of the 7 knobs and 4 mini-pots, each of which control a specific parameter and characteristic (Pitch, Sweep, Time, Shape, Grit, Decay, EQ, Clipper, Hold, Volume and Character) for each drum type. Each drum channel has its own trigger and v/oct in addition to extensive CV input options per channel.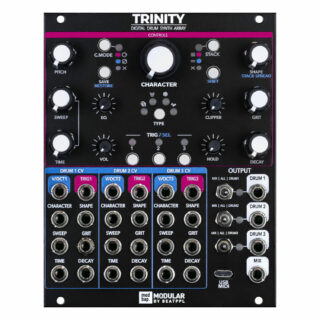 Trinity's uniquely performable and switchable output matrix allows for the routing of each drum channel's output to the mix output, the individual drum channel output or both. This makes for easy performability, mutable output, parallel processing, or side chain source.
Lastly, Trinity's MIDI over USB connection allows for MIDI control over various parameters via one USB cable.

Hue is an audio color and textural processing effect, in 6 hp Eurorack format.
Hue is comprised of a chain of 5 effects (Drive, Filter, Tape Saturation, LoFi, Compressor). Each effect imparts a particular coloration, tone, distortion, and/or texture to the source audio. With Hue, drums bang with more intensity & melodies morph into lush LoFi tones.
What they say about it:
"Hue's goal is to simply color your sound. The initial concept was born of a debate about the techniques and processes used to make drum machines sound big, bold, and delicious. The sounds that tug at the hearts of boombap, LoFi, and subsequently modbap, enthusiasts are those that have great texture, lush degradation, soft distortion, and big bold strokes of color. The classic beloved drum machines were often processed with outboard gear, recorded to tape, pressed to vinyl, played in big booming systems, sampled, and resampled and on and on.
Ultimately, those are the sounds that become nostalgic and reminiscent of all that we love about classic LoFi boombap production. HUE is our attempt at bringing that vibe into eurorack with a cute little 6hp package."
The effects chain audio signal path is as follows; Drive, Filter, Tape Saturation, LoFi, Compressor. The panel layout allows for the DJ style filter knob to sit in first position for ease of tweaking. Drive boosts and lightly distorts the signal, while shift+Drive adjusts the Drive tone. The Filter is a low pass filter to the left and a high pass filter to the right. Tape effect is intended to impart cassette tape saturation, while shift+Tape adjusts the intensity. LoFi adjusts bit depth, while shift+LoFi adjusts sample rate. Lastly, the one knob compressor mini pot serves as the final glue in the signal path that brings it all together.
CV inputs for Drive, Filter, Tape Saturation, and LoFi provide lots of modulation possibilities.
Hue intro video
Trinity is available now for $549.99. Hue is available for $299.99.
---