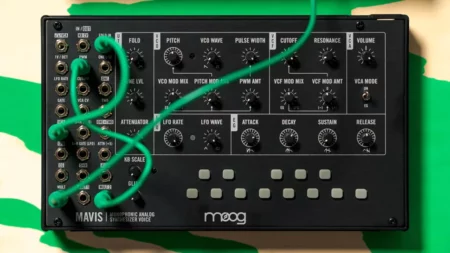 Moog Music has released Mavis, an all-in-one semi-modular analog synth voice in Eurorack format, that is designed for those who crave that classic Moog sound but do not want to pay too much for it.
Mavis brings new sonic capabilities to Moog's palette of Eurorack systems. Use it on its own or as part of a Eurorack or Moog semi-modular setup.
Mavis, the affordable Moog analogue synth that you can build yourself. It can be used as a standalone synth, or removed from its case to be used as a 24-point patch bay and a single VCO with pulse width modulation, waveform mixing and mod source mixing.
There's a 24dB low-pass ladder filter, along with an audio rate LFO and 4-stage envelope generator. Uniquely on a Moog synth, there's also a wavefolding circuit, bringing additive synthesis into play. The modular utilities section includes attenuators, offsets, mults, and a DC-coupled mixer.
Lastly, there's a patchable sample and hold circuit, which generates a random CV pattern that can be used to modulate other parameters. One application of this is to set Mavis into a 'random sequencing' performance mode.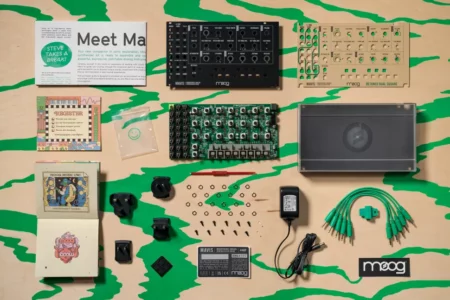 With Mavis, users of any skill level can quickly build an analog synthesizer, with minimal tools and experience. No soldering is required.
Once the instrument is built – which comes with a fitted protective cover – includes a one-octave keyboard so that you can start playing immediately, while patch books and educational materials are on to help you start patching and designing sounds.
Features:
24-Point Patch Bay: Mavis features a useful collection of utilities and flexible control voltage routing.
Full Range Analog Oscillator: Mavis's Voltage Controlled Oscillator (VCO) with pulse-width modulation (PWM), waveform mixing, and mod source mixing delivers rich harmonic character and motion.
Voltage Controlled Filter: Sculpt your sound with the -24dB Moog Low Pass Ladder Filter, delivering the sonic power behind the distinct sounds of Moog basslines and leads.
Audio Rate LFO and 4-Stage Envelope Generator: Mavis uses crossfaders in its modulation routing instead of switches, allowing you to blend between a variable shape LFO and 4-stage envelope generator, for interesting and unusual modulation contours.
Wavefolding and Modular Utilities: Mavis features Moog's first-ever wavefolding circuit, allowing for additive synthesis to sit alongside traditional subtractive synthesis, and features a broad modular utilities section, complete with attenuators, offsets, mults, and a flexible DC-coupled mixer.
Patchable Sample and Hold (S+H) Circuit: This circuit generates a random CV pattern that can be patched to modulate other parameters, including setting Mavis into a "random sequencing" mode of performance.
Protective Cover: Mavis includes a fitted protective cover for use during studio downtime or taking your instrument on the go.
Seamless Configuration with Eurorack Systems & Moog's 60HP Semi-Modular Synths – In 44HP, the synthesizer offers two oscillators, full ADSR, ladder filter, sample and hold, wavefolding, attenuators, mixer, mults, and much more.
Moog Mavis Audio Demos:
A Nod to Moog's DIY Beginnings
Moog notes that Mavis isn't the first DIY instrument from Moog – in fact, the company was built on the build-it-yourself kit.
In 1949, a teenage Bob Moog discovered a copy of Electronics World that featured an article with details on how to build an electronic musical instrument at home. Shortly after, he built his first model of the instrument, a theremin, from plans published in the magazine. By 1953, Bob and his father established R.A. Moog to market and sell theremin kits out of their home in Queens, NY.
With the release of Mavis, Moog celebrates its roots by providing the end user with the unique experience of constructing their own instrument. Every Mavis is custom built and hand assembled—like the instruments Bob Moog built years ago and the synthesizers and theremins that Moog's employee-owners assemble by hand to this day.
Moog Mavis is available now for $349.
Find out more on the Moog Music website.
---