At Superbooth 2023, Horst Mayer presented the MD900 Extended Virtual Analog Desktop Synthesizer.
The MD900 is a polyphonic desktop synthesizer, multitimbral with 4 parts. The polyphony of up to 16 voices is shared by 4 multi-timbral parts.
Each of these 4 parts has their own effect stack, including Mod-Delay (flanger, chorus, vibrato), Reverb, Tube-AMP, EQ, LP-Filter, DYNAMIC (Limiter) , Stereo Delay and more.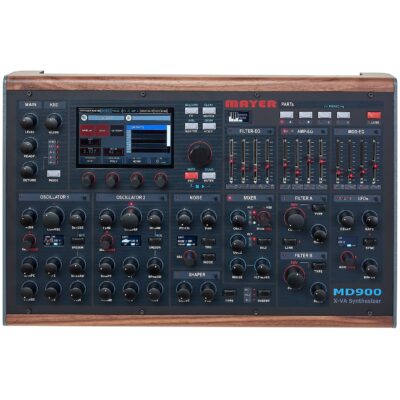 Key Features:
The overall audio path is stereo. The oscillator, mixer filter, amps and effects are all in stereo.
Four independent arpeggiator and step sequencer are assigned to each of the four synth parts. The trigger sequencer may trigger the built in transient sample player (Drum Kit .wav) or send triggers to MIDI-Out (USB-DIN or USB-MIDI)
The housing is made of aluminum with walnut wood on the front and back.
All components are industrial grade, including precision potentiometers with aluminum covered knobs.
Details are available at the Mayer-EMI website.
---