Make Noise has introduced the 4 Zone CV Bus Case, a powerful Eurorack case offering two 104 hp 3U rows for Eurorack modules, one 104hp 1U row fitted w/ CV Bus, premium build quality and more.
The powder coated metal construction is designed to offer excellent mechanical durability. The lid is removable and can be closed with the system fully patched.
The Make Noise 4 Zone Power Bus Board is like having 4 independent bus boards, in a convenient single bus board package. Each Zone features isolated +12 VDC and -12VDC supplies and a dedicated ground return path. The +5VDC supply is shared amongst all 4 zones.
The multiple section of the CV Bus was originally designed in 2013 for Alessandro Cortini's personal Make Noise system. It provides visual indication of level, rate and polarity for up to 4 control signals that will be shared throughout a patch. These 4 control signals are color coded and distributed across the center of the system. The color coding and visual indication makes navigating complex patches easier and more intuitive. Typically, the CV Bus would be used to share the most important control signals in a patch such as your Master Clock.
This new version of the CV Bus also includes useful modular utilities:
The Voltage Math is found at the left end of the CV Bus. Like the similar circuit on the 0-Coast, it is a small collection of universally useful modular utilities. The two inputs are summed at the output, one at unity and one adjusted by the input attenu-verter. The attenuverted input is also normalled to a DC offset, for purposes of level shifting, voltage mirroring etc. The output strength and polarity is indicated by the Green and Red output LEDs.
A high quality Stereo Line Driver converts powerful modular synthesizer signal levels to the commonly used Line Level. There are mini-jack inputs for Left or Mono, and Right for Stereo sound, a single master volume control, as well as a stereo line output pair, and finally a TRS line/headphone out on a single jack. This output is capable of driving a long cable out to a PA System or a set of Headphones. It is AC coupled with a built-in limiting circuit (with visual indication) that prevents damage to ears and PA system when the patching gets experimental.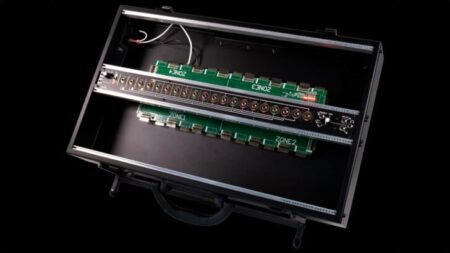 Features:
Two 104 hp 3U rows for Eurorack modules, One 104hp 1U row fitted w/ CV Bus
Hybrid switched/linear power solution for low noise and excellent load regulation
Multi-Zone, allowing isolation of noise-prone modules from noise-sensitive ones
Black powder coated metal w/ embossed logo on lid
Sealed to keep dust out during travel or storage
Lid offers space to close w/ your system patched
Recessed side mounted on/off switch and power inlet for safe travel
Locking power connector helps prevent on-stage power loss accidents
Solid carrying handle and rubber feet so the case travels w/ ease
Meets carry-on luggage size requirements for most airlines
Universal AC power adapter works world-wide (Need IEC Cable for non-US outlets)
Blued Steel Stand sold separately
The Make Noise 4 Zone CV Bus Case is available for $949.
---