Electronic Keyboards
Digital Pianos
Portable Keyboard
Synthesizers & Workstations
Free shipping on most items over $9.99!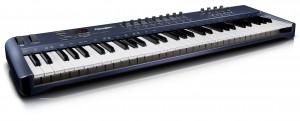 The M-Audio Oxygen 61 USB MIDI Controller features 61-key keyboard with velocity sensitive. Though the sensitivity is adequate but may not satisfy the most discerning pianists. The Oxygen 61 is solidly built, compact and portable, making it ideal for both live performances and production. The Oxygen 61 features excellent pitch and modulation wheels, a USB interface, extra MIDI in/out ports, 3 Octaves up and down, programmable buttons, faders and panners, 6 transport controls (Record, Play, Stop, Rew, FF, Loop).
The M-Audio Oxygen 61 allows users to download Cubase profile from a third party site and immediately use the 9 faders to control the master volume and the 8 tracks. And both the faders and transport controls work flawlessly. In fact, this portable keyboard works great with almost all software and has some built-in settings to help interface with programs, which helps speed up the learning curve and makes it user friendly.
The M-Audio Oxygen 61 is also an excellent choice if you want a versatile midi controller for garageband or Logic Studio because you can convert your Mac in many great synths. This portable keyboard weight merely 7.5 lbs and with the most features at this price range.
Digital Pianos
Electronic Keyboards
Organs
Pianos
Player Pianos
World Instruments
Electronic Music
Audio Samplers
Audio Sequencers
Drum Machines
MIDI Interfaces
Production Stations
Sound Modules
Tabletop Synthesizers
Das Keyboard High-Performance Mechanical Keyboards
The World's First Cloud Connected Keyboard.
---