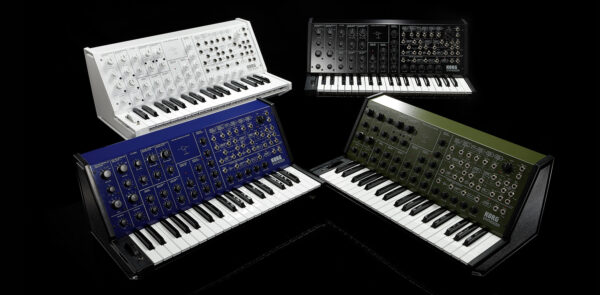 Korg MS-20 FS Monophonic Analog Synthesizer, 2 Oscillators, 37 Mini-Keys
Korg today announced that the MS-20 FS (full-size) Monophonic Synthesizer is now available.
This is the long-awaited 1:1 scale reissue of the legendary MS-20, reborn in four limited-edition green, white, blue and black colors.
The original MS-20 is a classic semi-modular monosynth, prized for its distinctive, aggressive-sounding filters and external audio processing capabilities. The MS-20 was originally revived by Korg in 2013, in the form of the three quarter-sized MS-20 mini, and while two full-sized versions did follow – in full and desktop module forms – both were released as DIY kits produced in limited numbers.
During NAMN 2020, Korg had announced another production run of the full-sized MS-20, and this time in pre-built, rather than kit format. And what is more there are four limited-edition colors variations to choose from, each of which Korg says will be produced in limited numbers.
Now, it is finally shipping.
The full-sized 37-note keyboard design remains the same as the original including two filter types, except for the addition of MIDI and USB MIDI control.
All four KORG MS-20 FS models are now available with U.S. MAP pricing of $1399.99.
---