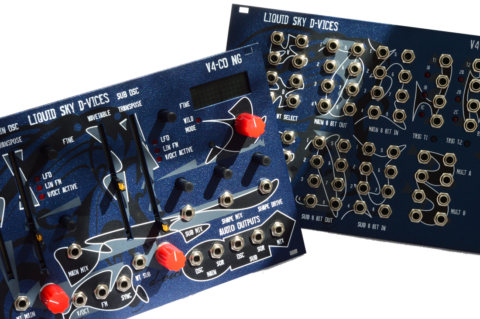 At Superbooth 2023 (and not at Superbooth 2023), Liquid Sky introduced new Eurorack modules.
They planned on debuting two new modules at the event, but fate got in the way:
When our manufacturing partner in Riga sent the "zero series" of our modules 14 days ago for demo video productions and demoing the products at the Superbooth Berlin, we whimsically mused about placing 27 candles in the Cathedral Of Acid to ensure a smooth delivery.
Alas, fate played its tricks, and the modules failed to arrive on time. Consequently, our dazzling new "V4CO" and its accompanying "GLITHc" expander won't be showcased at the Superbooth. If only we had genuinely lit those stoopid 27 candles in the fkkn Cathedral Of Acid!
They did share details on the new modules, though: The Liquid Sky d-vices V4CO is a dual 8 bit wavetable oscillator, each with separate subbass.
Features:
Hard sync
16 x 16 Waveforms – different for each OSC
Each module has a base (16 x 6) set and an unique set (16 x 10) of waveforms
Single outputs for each OSC / SUBOSC and mix output (w/o SUBOSC)
Analog VCA for each oscillator
Analog overdrive controllable via VCA
Audio / LFO Mode for each OSC
Waveform shuffle
REAL 8 BIT Sound
Detuning Function
8 Oktaven
Quantizer (Chromatic)
complex Waveform-LFO
The Liquid Sky d-vices GLITHc BOARD eXPENDR for V4CO is "a complex glitch lab".
Features:
Real circuit bending (you actually manipulate the internal routing)
Bit-manipulation of

individual bits for Wave and Bank select
individual bits of actual wavetable

4 Logic functions: AND/OR/NAND/NOR
3 mini non consecutive sequencer for

BANK/WAVE Sequencing
manipulating Wavetables

Multiples
MIDI + 3 Thru
Pricing:
V4CO : €499 plus vat plus shipping.
GLITHc : €699 plus vat plus shipping
V4CO & GLITHc = €999 (Introduction set price limited to 100 units)
Preorders starts now for V4CO & GLITHc. The shipping date for the modules is September 1st, 2023.
---