Korg today announces next-gen Volca FM: compact DX7-inspired synth gets expanded polyphony, new MIDI features and more
Korg DX7-inspired Volca FM first launched six years ago. Now, like the Volca Sample before it, the FM is getting a second-generation update, and it brings with it a wide range of new features and enhancements.
The new Volca FM looks very similar to its predecessor but, there are some significant changes that enhance its capabilities considerably. Firstly, of these is expanded polyphony – up to six voices compared to the original's three. The new Volca FM now responds to velocity via MIDI, as well, for a more expressive experience when used with an external controller.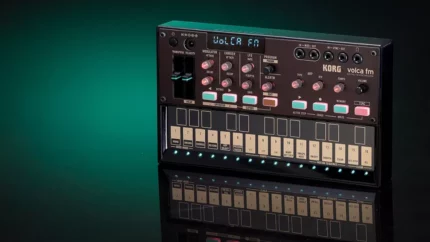 Also on the MIDI front, Korg has added a MIDI output (via a TRS adapter) enabling the Volca FM's sequencer to control external gear.
That 16-step sequencer has been enhancements, including a pattern randomisation tool for auto-generating ideas. This joins other sequencer functions including Warp Active Step – which alters the distribution of sequencer steps for interesting rhythmic ideas -and pattern chaining.
In addition, the second gen FM includes a new effect, with a digital shimmering reverb joining the existing chorus.
As with the original, the FM's synth engine is based on the 32-algorithm design of Yamaha's DX7 and can even import classic patches via SysEx. While the interface can be a little fiddly for deep parameter editing, the FM can make use of a free online editor for more advanced patch creation.
Here's what they have to say about it:
"The next-gen volca fm is a powerful 6-voice, 6-Operator FM synthesizer with all 32 classic algorithms, a 16-step loop sequencer, effects and a powerful arpeggiator that perfectly reproduces the sound of the classic Yamaha DX7 and is completely compatible with SYS-EX patches for the DX7 as well.
Battery (included) or adapter (optional) operated with built-in speakers and a compact and light chassis, the volca fm is the ultimate portable FM solution for all musicians.
This new generation – with double the voices of its predecessor, additional effects, expanded MIDI connectivity, and intuitive interface – is poised to bring unprecedented possibilities to your setup, and revolutionize your studio with new musical ideas."
Features:
Now it is possible to play, sequence or arpeggiate up to 6 voices.
The new volca fm is now velocity sensitive via MIDI, which coupled with its 6 voice polyphony, provides a much more expressive and nuanced playing experience than ever before.
More Effects – volca fm includes a lush Reverb effect, in addition to the Chorus effect. Each of these two effects can be used and adjusted individually.
External sequencing and connectivity – In addition to MIDI IN, the new volca fm also includes a MIDI OUT (IN/OUT 3.5 mm TRS), making it possible to use the volca internal sequencer to control other devices through MIDI.
Powerful sequencer and functions – The internal sequencer offers looping up to 16 steps, allowing you to record your performance on the touch panel keyboard as you play. Up to 16 sequence patterns can be stored in the internal memory.
volca fm also incorporates a motion sequence function, to record in real time the subtle nuances of your playing and knob movements.
New program randomization and performance oriented functions – the new generation of volca fm includes a brand new program randomizer.
The volca fm provides new functions that enable you to generate more irregular rhythms. If the active step is fewer than 16 steps, you can use the warp active step function to compensate so you occupy the same playback time as 16 steps; then by synchronizing the playback with another volca series unit, you can deliberately skew the step timing to generate truly unconventional performances.
Furthermore, the pattern chain function lets you connect multiple sequence patterns for successive playback, making it possible to construct large-scale developments of 32, 64, or even 256 steps by joining up to 16 sequences.
Full classic Sys-Ex compatibility – The volca fm perfectly the sound engine of the Yamaha DX7. Its six operators and 32 algorithms provide complete compatibility, and it can even load files in the SYS-EX/SYX format.
Easy sound editing – The volca fm makes FM sound editing accessible with the MODULATOR/CARRIER edit knobs – the knob movements are mapped to multiple parameters for sound changes that are easy to understand. FM enthusiasts can also menu dive into full parameter edits.
The new volca fm comes in a portable form factor that you can take anywhere. It runs on 6 AA batteries, has an integrated speaker and weighs only 360g/12.6oz (without batteries).
SYNC IN-OUT and MIDI IN-OUT connections lets it integrate with your other gear.
Audio Demos:

Bundled software includes iZotope Ozone Elements, Reason Lite and various plugin synths from Korg and others.
The new Volca FM is available now price at $245. Find out more on the Korg website.
---