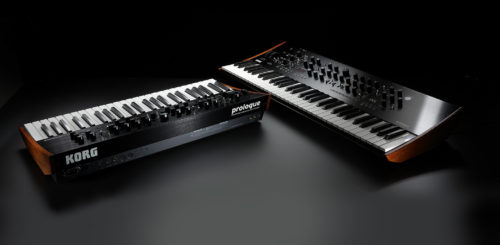 The Prologue is a polyphonic analogue synthesizer available in either an 8 or 16 voices. with the 8 voices 49-key Prologue-8 offer 4 octave, while the 16 voices 61-key Prologue-16 offers 5 octave with full-sized keyboard, velocity sensitive, with 3 Oscillators per Voice, Filter with Drive and Low-frequency Compensation, Arpeggiator, and Dual Effects Sections.
The Prologue has three oscillators, with all located to the left of the front panel. VCOs 1 and 2 are identical, offering a choice of Saw, Triangle and Square wave. The third Oscillator, which is described on the front panel as Multi Engine, it is unsurprisingly somewhat multi-faceted. The filter is a fixed 2-pole design offering Low Pass, with the usual resonance and key-tracking. Being 2-pole, it is particularly crunchy, but with a great degree of pot resolution. Two full ADSR envelope are on offer, with one immediately assigned to the filter section, but also offering duties elsewhere, such as the ability to control the pitch of the VCOs. The LFO, on the other hand, can be directed to a number of modulation locations, including the oscillator shape, and can be easily clocked to a given signal, while offering Saw, Triangle and Square waveforms. There is an extensive set of high quality effects available on the backend of the Prologue, with an independent Delay/Reverb section, and a further Modulation section, which include Ensemble and Chorus type effects. One unique feature to the 16 voice Prologue, is the inclusion of a backend compressor. Apart from offering a degree of VU meter eye-candy, the compressor will helpfully both compress and replace some of the low-end frequencies that may be lost along the patch building way.
The Prologue is an astounding synth that merge analogue and digital oscillators beautifully and has a distinct personality in the sound, regardless of the patch you are on, as it is enticing.
---