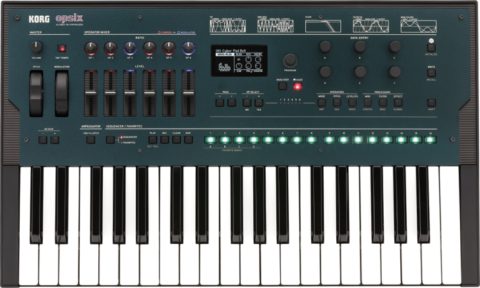 Apparently, Korg appears to be blowing out its remaining stock of the Opsix Altered FM Synthesizer, with Reverb.com, American Musical Supply and other retailers now listing it for $329 , 69% off the original list price and less than half the previous retail price.
The Korg Opsix was introduced less than 2 years ago, after being previewed earlier in 2020 at NAMM in more of a flagship keyboard design: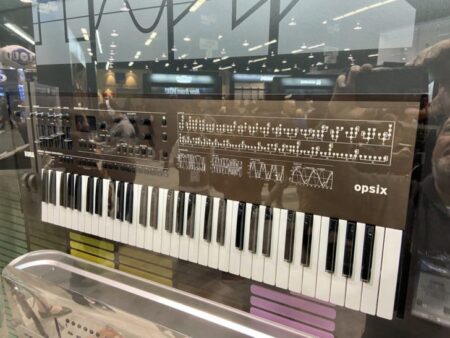 Korg Opsix has been well-reviewed since its introduction. Reviewers have critiqued the Opsix's build quality, which has a lighter and more plastic build than recent Korg keyboards like the Minilogue and Prologue, but have praised the Opsix's sound engine, which sounds great and makes FM synthesis easy to use.
The Korg Opsix is described as an "altered" six-operator FM synthesizer, because the keyboard's sound engine goes far beyond traditional FM synth capabilities. While it has a six-operator FM sound structure, like classic FM synthesizers, the Opsix goes further, featuring new operator modes, 11 filter options, 30 effects, a polyphonic step sequencer and more.
Korg updated the Opsix to version 2 earlier last year, adding a feast of new capabilities, including an Effect Operator, which enables you feed that oscillator signal and input signal into one of 10 different effects: Peaking EQ, Shelving EQ, Phaser, Short Delay, Comb Filter, Distortion, Drive, Decimator, Waveshaper & Punch.
Additionally, the update added Noise Pink and Noise Blue as oscillator waveforms, and added support for aftertouch as a control source for LFOs, EGs, and the Virtual Patch.
Earlier this year, Korg introduced wavestate native and opsix native, fully-compatible software versions of their wavestate and opsix hardware synthesizers. At the time, Korg said that the soft synths give you the best of both worlds, by having software and hardware versions that are fully compatible. But the availability of the soft synths may have also impacted their hardware sales.
The loopop review for the Korg Opsix:
And Nick Batt's Sonic State review for the Opsix:
Korg Opsix Audio Demos:
At the new price, the Korg Opsix may be purchase by many. There's no shipping available beyond US borders – but if you do take advantage of it, you will be grabbing yourself a proper bargain.
---