Korg has announced the availability of the miniKORG 700, a modern reissue of the company's first mass-produced analog monosynth.
The miniKORG 700 FS is a full-size reissue of the two-oscillator "S" model, but incorporates a few modern updates, including an arpeggiator, built-in spring reverb, aftertouch, improved connectivity and more.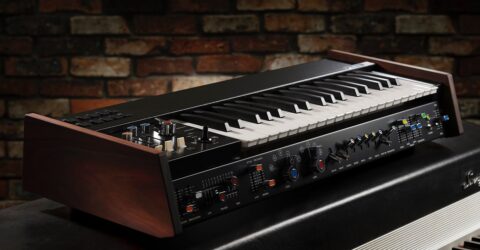 The miniKorg 700 FS was developed in conjunction with the original designer, Fumio Mieda. The miniKORG 700 FS is being offered as a limited-edition release, with a custom case.
Korg miniKORG 700FS Synthesizer Hands-On Demo
In the latest Syntaur video, host Sam Mims takes a look at the new Korg miniKORG 700FS, a full-size reissue of the original synth from the early '70s
See the Korg website for details.
Jazz Up Your Valentine's Day With Filmora
Filmora 12
Edit Anywhere,in Every Way.
New Year's Eve Party
Christmas Tree Video
Sam Ash Holiday Deals
AmpliTube 5 MAX $/€99.99 deal
MAX Madness - up to 83% off MAX music software bundles
TONEX Pedal
Das Keyboard 6 Professional - Begin to enjoy your modern workday.
---