Electronic Keyboards
Digital Pianos
Portable Keyboard
Synthesizers & Workstations
Free shipping on most items over $9.99!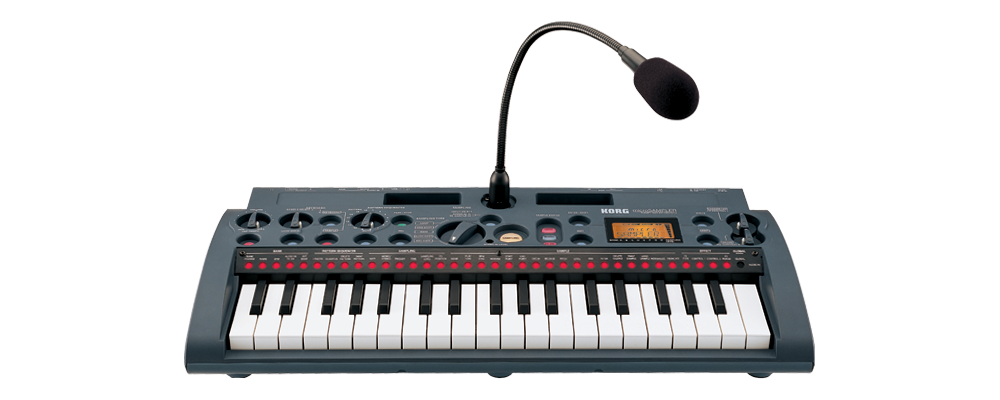 The Korg microSampler Sampling Keyboard is the third addition to Korg's microSeries family. The microSampler features a compact sampling keyboard with a gooseneck microphone, 37 new Natural Touch micro keyboard with velocity sensing, 14-voices Polyphony, LCD display; 37 LEDs above keys, Effects; 21 Types – Compressor, Filter, 4-Band EQ, Distortion, Reverb, Delay, L/C/R Delay, Auto-Panning Delay, Modulation Delay, Tape Echo, Chorus, Flanger, Vibrato, Phaser, Tremolo, Ring Modulation, Grain Shifter, Pitch Shifter, Talking Modulator and Looper, Time stretch, Sampling modes; One-Shot, Gate, Loop, Key Gate and Auto-Next, Sampling rates; 48 kHz, 24 kHz, 12 kHz, 6 kHz.
The Korg microSampler provides a fast and easy way to integrate creative audio sampling into any musical scenario. The customised backlit LCD makes the microSampler ease of use for both music beginners and professional musicians. The mini size full fledge keyboard instrument's five sampling modes have re-sampling in every mode. The Auto Next sampling automatically creates ready-to-use time-sliced samples during recording. While the Key Gate sampling enables users to grab multiple samples of varying lengths from incoming audio by a simple touch on the desired key, all in real-time. The entire output can be routed through the effect, played by the pattern sequencer and re-sampled as a single sound. The time stretch feature enable users to change the tempo without affecting the pitch. All editing tools are included like, Normalize, Truncate, Start and End trim, with selectable sample rates that range from beyond CD clarity down through a Lo-Fi vintage vibe.
The Korg microSampler also provides tons of preset sounds for instant music-making. The twenty-one effects borrowed from Korg's KAOSS PAD series, can be applied to any sound while re-sampling, allowing the effects to be used over and over again for more sonic expression. The front panel provides a cradle for holding MP3 or audio player. The portable keyboard can runs on batteries (6 AAA Alkaline batteries for approximately 4 hours) and  weight merely 4.19 lbs.  The entire sampling keyboard has been designed for comfort, speed and playability.

var _gaq = _gaq || []; _gaq.push(['_setAccount', 'UA-17740839-1']); _gaq.push(['_trackPageview']);
(function() { var ga = document.createElement('script'); ga.type = 'text/javascript'; ga.async = true; ga.src = ('https:' == document.location.protocol ? 'https://ssl' : 'http://www') + '.google-analytics.com/ga.js'; var s = document.getElementsByTagName('script')[0]; s.parentNode.insertBefore(ga, s); })();
Digital Pianos
Electronic Keyboards
Organs
Pianos
Player Pianos
World Instruments
Electronic Music
Audio Samplers
Audio Sequencers
Drum Machines
MIDI Interfaces
Production Stations
Sound Modules
Tabletop Synthesizers
Das Keyboard High-Performance Mechanical Keyboards
The World's First Cloud Connected Keyboard.
Korg microSAMPLER Sampling Keyboard
---