Electronic Keyboards
Digital Pianos
Portable Keyboard
Synthesizers & Workstations
Free shipping on most items over $9.99!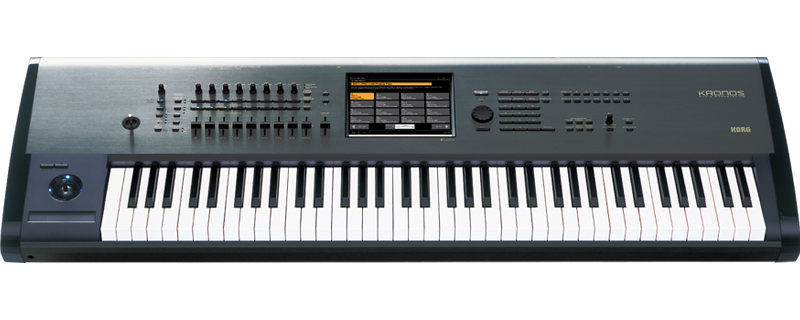 Korg's brand-new Music Workstation, the KRONOS unveiled at the recent 2011 NAMM show. Kronos is more than a new instrument. It is a single keyboard instrument that brings together multiple synthesis sound engines in Kronos. Korg Kronos features 61-keys, 73-keys or 88-keys, the 61-keys features semi-weighted action whereas, the 73 and 88-keys feature fully weighted hammer-action keyboard. Kronos boasts a complete nine different synthesis sound engines, new interactive performance features, as well as a host of tactile elements, including a new 8″ color touch screen, for easy access to parameters and real time control.
The foundation of any keyboard instrument is the piano and no workstation would be complete without piano sounds, and the Kronos is no exception – a choice of acoustic piano; German Model D – grand and Japanese C Model – robust (presumably based on Steinway and Yamaha grands, respectively) pianos are available using the SGX-1 engine, and each has been sampled at eight velocity levels per key. Their realism is further augmented by the fact that none of the samples are looped, and both models recreate the sound of key and pedal noise, and sympathetic string resonance. Naturally, classic electric piano sounds are also incorporated and are accessible via the EP-1 engine and these sounds are generated on the fly using what Korg call Multi-Dimensional Synthesis (MDS) technology. Six electric piano models are available and due to their synthesized nature each can be extensively tweaked. The EPS-1 engine also includes emulations of cabinets, amps, speaker and vintage effects.
Additionally, a tonewheel organ model is also present, and this comes courtesy of the CX-3 engine. Another modelled affair, this recreates the sound of the classic Hammond organ, complete with valve amplifier, vibrato/chorus and the obligatory Leslie cabinet. The imperfections of the original, including leakage, tonewheel noise and pitch instability, have also been obsessively analysed and recreated. STR-1 is a string-synthesis engine, besides generates guitar, harp, harpsichord, clavinet and other real stringed-instrument sounds, user can also create entirely new sounds. It also allows user to use the synthesis engine to process external audio sources, via the Kronos input jacks. The remaining five sound-generation engines are based either on traditional synthesis techniques or classic hardware synthesizers. The MS20 EX and Polysix EX emulations from Korg  Legacy collection have been incorporated here, with MS20 patching achieved via the touchscreen, and the Polysix EX featuring the original classic arpeggiator.
Korg KRONOS Music Workstation, there is a lot to mention about this monstrous music workstation and many more than could be mentioned here. The portable keyboard comes complete with all of the extras required of a modern workstation, and has exceeded the demands of the modern player. The KRONOS is  a single keyboard instrument designed for live performing musicians,  artists creating in a studio or computer-based production environment and for musicians and sound designers seeking the ultimate synthesizer. Weight 12.5 kg,  20.3 kg and 23 kg respectively.



Digital Pianos
Electronic Keyboards
Organs
Pianos
Player Pianos
World Instruments
Electronic Music
Audio Samplers
Audio Sequencers
Drum Machines
MIDI Interfaces
Production Stations
Sound Modules
Tabletop Synthesizers
Das Keyboard High-Performance Mechanical Keyboards
The World's First Cloud Connected Keyboard.
---