Korg Kaoss Replay takes the classic XY effects pad and marries it to a fully-fledged pad sampler. It could be everything you need for live performance in one box – can your Roland SP-404 or MPC do all this?
Today, Korg introduced the KAOSS Replay – a 'flagship' take on the classic KAOSS Pad concept.
Imagine a hands-on effects processor that's also a pad-based sampler and you are getting close to the Kaoss Replay, Korg's new standalone live performance and music creation tool.
The Kaoss brand is one that many will be familiar with. The original Kaoss Pad, which introduced us to Korg's X/Y effect processing touchscreen, was released way back in 1999. It was followed up with various other models, including the Kaoss Pad 3, Kaoss Pad Quad and Kaossilator, which also became a mobile app.
KAOSS Replay builds on the KAOSS Legacy, though, the Kaoss Replay is significantly more sophisticated. Yes, that touchscreen is still here – a 5-inch, full-colour OLED one, in fact – but below it are 16 velocity-sensitive pads that can accommodate a total of 128 sample slots per project, spread across eight banks. What's more, you can store and access up to 100 projects via microSD card.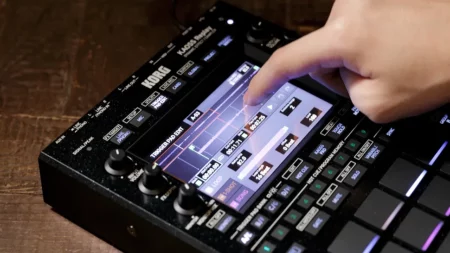 As well as being able to import samples, you can also record directly into the Kaoss Replay via the audio or mic input. There's BPM detection, sync and quantisation, plus the ability to trim samples on the hardware. The 12-point Hot Cure triggering system, meanwhile, should suit live performers.
With 128 new KAOSS FX, including filters, delays, reverbs, modulation effects, loopers, vocoders, and synth effects, the touchscreen enables you to tweak up to 128 of them
Effects can be automated by using the Pad Motion function or locked in place with the Touch Hold button.
Other features include resampling, DJ-style dual faders, USB or mains powering and the option to use Kaoss Replay as an audio interface or MIDI controller. With its aluminium body, it looks rather sturdy – good news for a product that could be destined for life on the road.
Here's what they say about it:
"KAOSS Replay is a self-contained performance tool that reshapes the KAOSS legacy, serving as an all-in-one solution for musicians, performers, and producers. It features unparalleled KAOSS Pad and Effects, expanded sample playback and sampling capabilities, and intuitive and precise DJ controls. In a portable stand-alone unit, KAOSS Replay facilitates electrifying KAOSS-infused performances on the fly, eliminating the need for additional equipment."
Pad sampler with integrated Kaoss effects and performance functions;
16 velocity-sensitive sample pads with coloured LED lighting;
5 inch OLED touch display for intuitive control of the Kaoss effects;
128 sample slots per project (16 pads with 8 banks each); each sample pad can contain a one-shot, a loop or a complete song;
up to 100 projects can be stored on a microSD card (up to 32 GB memory cards are supported, 8 GB microSDHC card included);
128 dynamic Kaoss effects;
2 freely assignable group faders for seamless transitions between samples and tracks; tap / auto BPM, sync, quantise and variable audio functions;
12 favorite memories;
12 hot cue points per sample pad;
integrated USB audio interface (2 in / 2 out, 48 kHz, 16-bit);
additional effects for the microphone input: Tone, Delay, Reverb;
recording functions: Sampling, resampling (maximum 30 minutes), live recording (maximum 100 minutes);
connections: Line / phono input RCA (switchable with switchable phono gian), microphone input 6.3 mm jack (only suitable for dynamic microphones), AUX input 3.5 mm mini jack stereo, line output RCA, stereo headphone output 6.3 mm jack, foot switch input 6.3 mm jack, MIDI input and output, USB MIDI (1x input and output);
Dimensions: 185 x 284 x 56 mm (W x D x H); Weight: 2 kg
Korg KAOSS Replay Demo Video:

The Korg KAOSS Replay is expected to be available in Jan 2024, with a street price around $1,000/£949. Find out more on Korg website.
---