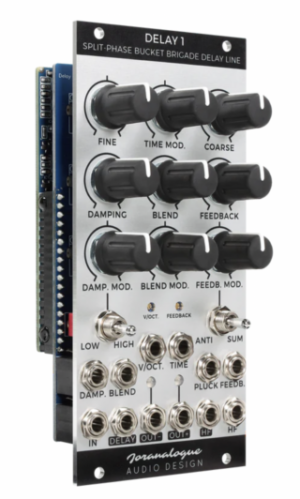 Module-makers Joranalogue Audio Design has announced that their Delay 1 split-phase bucket brigade delay module – originally introduced at Superbooth 2022, is now available worldwide.
Delay 1 is a fully analogue BBD-based Eurorack delay module with a multitude of features. An integrated temperature-compensated, high-frequency voltage controlled oscillator (VCO) provides the 'clock' signal necessary to drive the delay line within 1 to 50 ms. By increasing the drive frequency to over 20 kHz, the classic 'BBD clock whine' problem is eliminated, while still providing a wide range in delay time. Classic chorus, flanger and echo effects are easily achieved using the dry/wet blend, feedback and damping parameters.
Delay 1 also enables you to experiment with Karplus-Strong synthesis, a synthesis technique that can be used to create string and percussion type sounds. This is made easy by an integrated noise transient generator, driven by the 'pluck' input, and by the clock VCO's 1 volt per octave response.
Features:
Analogue bucket brigade delay line.
Integrated temperature-stable high-frequency BBD clock VCO with fine and coarse tuning.
Split-phase topology with additive and subtractive dry/wet blend outputs.
Blend, feedback and damping (feedback filter) parameters. Positive or negative feedback with low or high pass filtering.
High-performance BBD drive circuitry and transparent compander chain ensure optimal signal fidelity.
Dedicated pluck trigger input for Karplus-Strong synthesis.
High-frequency BBD clock input and output to synchronise multiple delay lines.
Impedance-compensated outputs with dual-colour LEDs.
Trim potentiometer accessible from the front panel.
Premium mounting hardware: black screws, black nylon washers and matching hex key.
High-quality components and assembly.
A detailed feature demo of Delay 1:

Delay 1 Audio Demos:

Joranalogue Audio Design Delay-1 is available now through authorized dealers worldwide and retails for about $350.
---