IK Multimedia today introduced the UNO Synth PRO X, a new paraphonic, dual-filter analog synthesizer that they say "takes the UNO line to new dimensions of sound design, control and portability."
The UNO range of IK instruments has been around since 2018 and includes three synths and a drum module.
The UNO Synth PRO X takes the UNO 'Pro' concept to a new level. The new analog synth has more control, portability and sequencing options, but lacks a full-sized keyboard, replacing it with 13 buttons to audition sounds. The portable synth features a dual-filter, 3-oscillator paraphonic design, 256 presets, a 64-step sequencer and more.
Other key features include true-analog overdrive and 10 studio-quality effects (including a new shimmer reverb and uni-vibe-like modulations) in three simultaneous slots: modulation, delay and reverb. External signals can be also routed through the filters and the effects, in addition to UNO's original thru-put for daisy-chaining multiple units together without using a mixer.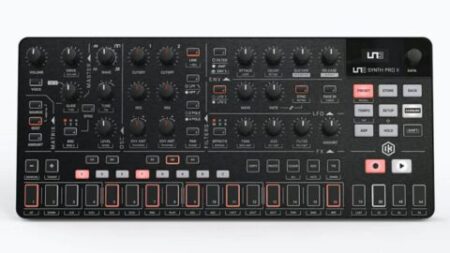 Sequencing and Performance Options:
The UNO Synth PRO X offers a 64-step paraphonic sequencer, with parameter automation, including CV and Gate. It has step and real-time recording, with a sequence randomizer (following the scale selected). Additionally, UNO Synth PRO X features a 10- mode arpeggiator with pattern designer.
In addition to legato, mono and paraphonic modes, users will find a new Bassline mode which modifies the behavior and interaction between core parts of the synth like the filter and envelopes.
The UNO Synth PRO X features over 30 hands-on controls plus a 16-slot modulation matrix.
UNO Synth PRO X stores 256 user-editable presets. Presets can be further managed with the included Editor/Librarian. The Editor works as both a standalone application and as a plug-in inside a DAW allowing users to program and play the UNO Synth PRO X just like a virtual instrument.
Connectivity includes USB-C and 5-pin DIN MIDI In and Out, making it easy to integrate with other synths and Mac/PC, while assignable CV/Gate connections let UNO Synth PRO X interact with Eurorack or other modular systems.
Watch a roundup of early Youtube demos and reviews:

We'd say that sounds like an awful lot of synth packed into a small box.
UNO Synth Pro X Paraphonic dual filter analog synthesizer
is available now from the IK Multimedia website with a very reasonable price of $/€499.99. UNO Synth Pro X Paraphonic dual filter analog synthesizer
---