Hammond's lightweight and 'affordable' XK4 organ promises "the B3 experience you've always wanted"
Hammond hopes to bring the B3 sound and feel into the future with the XK-4. It features a new Modelled Tone Wheel Engine and digital Leslie for the best in virtually authentic hardware.
The XK4 includes 91 virtual tonewheels, drawbars, touch-response percussion, chorus-vibrato and a newly-designed digital Leslie speaker emulation. The promise is that you're getting the sound and feel of a B3 in a compact and affordable package.
However, this is a modern instrument that promises to "sound and play like a 60-year-old antique". To that end, the XK4 also models some of a vintage Hammond's imperfections, which have been captured in the new Modeled Tone-Wheel 2 Engine. Expect to hear slight pitch fluctuations due to tonewheel backlash, and subtle volume fluctuations due to 'decentering'.
The virtual multi-contact keyboard is another purported highlight – this is designed to emulate the distinct feel of a vintage Hammond's electro-mechanical keyboard – while the colour display shows current settings. The switches and knobs are user-assignable, so you'll always have quick access to your favourite functions, and there are pitchbend and (assignable) mod wheels.
A new tube modelling system is also in play – tweak the overdrive control to add the desired amount of warmth or drive – and, in addition to the B3, you also get Farfisa, Vox and Ace organ emulations. Even classical and theatre pipe organs are covered off.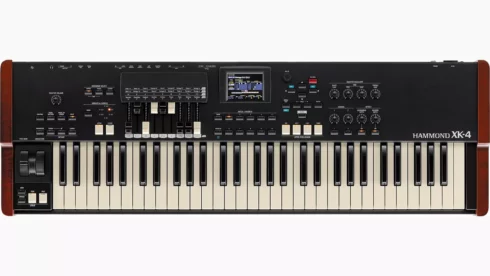 Build quality appears to be luxurious – the XK4 has real beechwood side panels – and there are plenty of connectivity options.
Hammond is calling the XK4 "a modern miracle" and, it does appear to be a keyboard that gigging B3 aficionados will want to take a close look at, particularly as it weighs just 20 pounds. More details – including a dealer locator – are on the Hammond website. Hammond XK4 cost around $2,495.00
---