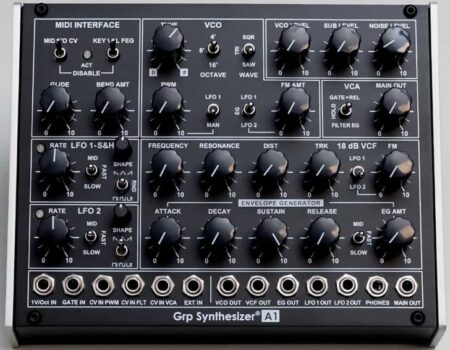 Italian synth maker GRP Synthesizer has introduced a new compact analog synth, the GRP A1.
The GRP A1 is an analog desktop instrument that can be used as a compact tabletop synth or as part of a Eurorack modular system. Features include a MIDI-CV interface, dual LFOs, VCO, suboscillator, noise, an 18dB VCF and ADSR EG. 11 patch points mean that you can use GRP A1 to process external signals, or integrate it with other Eurorack gear.
What they say about it:
"The Grp A1 monophonic synthesizer can be used as a stand-alone musical instrument or can be used to filter external signals through the Low Pass 18dB VCF resonant circuit. The presence of three internal signals (VCO, SUB and NOISE) ensures timbral power and ease of use. With the two Low Frequency Oscillators – LFOs (the first, integrates a Sample & Hold S&H) and the Envelope Generator ADSR, you can sculpt cyclic or transient modulation behavior.
The instrument can be powered via a USB type C cable connected to any USB 2.5A power supply.
It can also be taken out of its cabinet to be easily installed in any EuroRack modular system; it can be powered using the normal flat cables supplied with EuroRack systems."
GRP A1 demo video, via SchneidersLaden:

Grp Synthesizer A1 is available now for € 491 plus VAT. via Dave Makoun
---