GForce Software honours Tom Oberheim with a new documentary and is available for free on the GForce Software YouTube channel. You can watch the video above, this documentary begins by covering Tom's involvement in the emerging electronic music industry of the 1960s, then charts his achievements through to the present day. His career has seen him produce countless classic synths, including the OB-X and OB-Xa, DSX, DMX, OB-6, Xpander and Matrix 12.
And at 85, Tom Oberheim is still at it. His recent collaboration with Dave Smith, the Sequential OB-6, is considered by many to be a modern classic.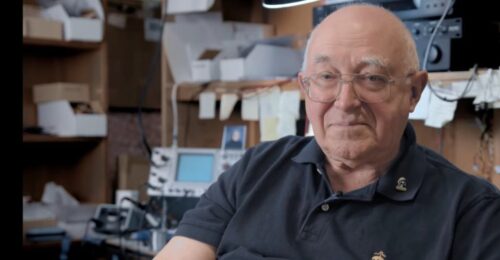 GForce previously released the OB-E, a plugin emulation of Oberheim's classic 8-Voice, which put eight of the company's SEMs (Synthesizer Expander Module) into a single instrument.
Commenting on the release of the documentary, Tom Oberheim said: "I congratulate the folks at GForce for all the effort they put forth to create the Bright Sparks video concerned with my history. What a great way to tell the Oberheim fans and family what I have been doing all these eight-plus decades, in and out of the music business!"
Bright Sparks producer and GForce co-founder Dave Spiers added: "Tom is such an important part of electronic music history, and given the instrumental version of I Monster's Bright Sparks album features a bonus track dedicated to him, his lack of inclusion in the original documentary always felt like a major omission. I've always wanted Bright Sparks to be an ever-evolving project, so I'm thrilled to document his fascinating story with a dedicated chapter."
Documentary Credits:
Camera – Sam Graydon.
Edit Producer – Jeff Boult.
Executive Producer – Dave Spiers for GForce Software.
Artwork – Jarrod Gosling
Animation – Luke Highet
Photos – Dave Spiers, Ian Legge, Robert Rosen, Marcus Ryle, Tom Oberheim & Sequential Circuits
Music – I Monster (Bright Sparks Instrumental). Jeff Boult. Dave Spiers.
Archive – Internet Archive. Prelinger Archives.
Das Keyboard 6 Professional - Begin to enjoy your modern workday.
Jazz Up Your Valentine's Day With Filmora
Filmora 12
Edit Anywhere,in Every Way.
New Year's Eve Party
Sam Ash Holiday Deals
AmpliTube 5 MAX $/€99.99 deal
MAX Madness - up to 83% off MAX music software bundles
TONEX Pedal
Christmas Tree Video
---