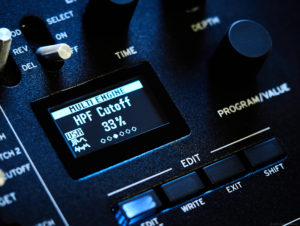 tSoniq has released a free user-oscillator for Korg 'logue synthesizers, including the NTS-1, Minilogue XD and Korg Prologue.
unity is a multi-model virtual analogue design, that supports morphable wave-shapes and up to 19 independently detuned waveform generators per voice.
The models include simple linear wave-shaping, ring-modulation and FM. A tracking sweepable high-pass filter and overdrive unit are also included to further shape the sound.
A wide range of sounds are possible, spanning simple wave-shapes though 1970's string synthesizers.
Unity is available now as a free download. Donation are encouraged to help support further development work.
Jazz Up Your Valentine's Day With Filmora
Filmora 12
Edit Anywhere,in Every Way.
New Year's Eve Party
Christmas Tree Video
Sam Ash Holiday Deals
AmpliTube 5 MAX $/€99.99 deal
MAX Madness - up to 83% off MAX music software bundles
TONEX Pedal
Das Keyboard 6 Professional - Begin to enjoy your modern workday.
---