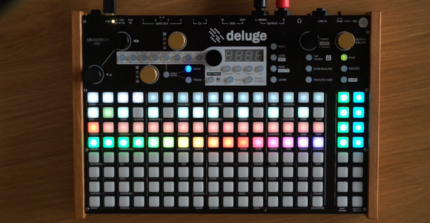 Synthstrom Audible has released Deluge 4.0, a free major update that adds wavetable synthesis, MPE support, Euclidean sequencing and many more.
New in Deluge 4.0:
Wavetable synthesis, and improved single-cycle waveform playback.
Support for MIDI Polyphonic Expression (MPE), and similarly MIDI polyphonic aftertouch. The Deluge can receive MPE from external MIDI controllers that support it, it can record this data, and the internal Deluge synths can respond to it. And this MPE data may also be output again to an external synth.
Euclidean sequencing – per row of a clip on the Deluge. This also means that now individual rows within a clip may be set to different lengths.
Sequences can be set to play in reverse, or to ping-pong.
Synths, kits and songs may be put into folders, and the user can browse these when saving and loading.
MIDI input devices (and to a limited extent output devices) may be differentiated and treated separately, so that two devices sending on the same MIDI channel won't be confused.
Improved handling of regular MIDI pitch bend and channel pressure. Adjustable MIDI pitch bend ranges.
Sharing presets along with their audio files, with other Deluge users, is now easier.
Details on the update are available at the Synthstrom Forum.
---