Developer Tom Hardiment has launched a Kickstarter project to fund production of the Groovetube plasma synth.
Audio is generated by a plasma instability inside a fluorescent tube, which you can control and shape with a magnet.
Tom Hardiment says "It's a bit like a theremin crossed with a 303, dunked in a bucket of drippy/splintery plasma…"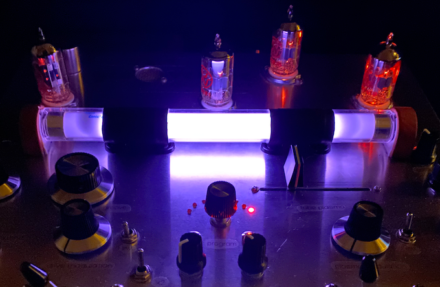 What they say about the Groovetube:
"We are releasing this first-generation machine for people to try out a new way to make noise. It is a sort of proto-instrument – an experimental machine to be experimented with!
Having machines out in the world will help explore what is possible, as there is a lot of unexplored territory here – we don't have much audio equipment, and have tried a dozen or so tubes. By making these machines available now, we hope to not only fund further development but also let collective experimentation inform its direction."
The Groovetube is available to project backers for £699 (about $840).
*Note that crowdfunded projects involve risk. See the project website for details.
Das Keyboard 6 Professional - Begin to enjoy your modern workday.
Jazz Up Your Valentine's Day With Filmora
Filmora 12
Edit Anywhere,in Every Way.
New Year's Eve Party
Christmas Tree Video
Sam Ash Holiday Deals
AmpliTube 5 MAX $/€99.99 deal
MAX Madness - up to 83% off MAX music software bundles
TONEX Pedal
---