Erica Synths has announced the availability of their SYNTRX II.
Introduced at Superbooth 2022, the Syntrx II is an update to their Syntrx synth that takes the EMS Synthi AKS concept into the future.
While the Syntrx II is inspired by the classic EMS Synthi AKS design, it features stable oscillators, new synthesis options, a digital patch matrix, patch recall, a built-in sequencer, effects and more.
An in-depth overview from Loopop's Ziv Eliraz:
Features:
Two stable main oscillators with CV controlled waveforms
Modulation oscillator with variable waveforms
Highpass and Lowpass filters in series
Free running or gate synced sample and hold circuit
Multi-colour noise generator
DC coupled instrument inputs with signal inversion and envelope follower
Ringmodulator of unique design
Looping trapezoid envelope generator and VCA
Two output VCAs
Signal meter with a dedicated audio/CV output
FX section with great sounding Delay and Reverb
Recordable Joystick Analogue patch matrix with 3 attenuation levels in each patch point
254 patch memory
Piano roll sequencer
Two CV inputs
Gate input
DIN5 MIDI Input (CV and Gate) and MIDI Thru
Two assignable outputs
Headphone output
Erica Synths Syntrx II available now, priced at € 1800.00 (VAT excl.)/ $2179.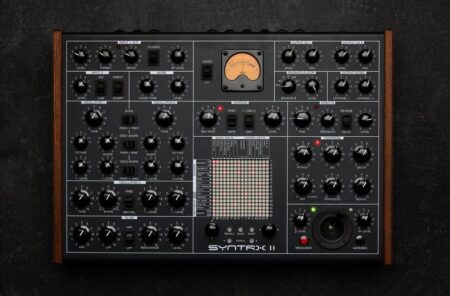 ---