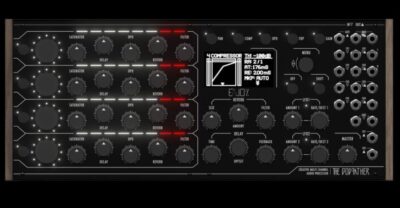 Enjoy Electronics, creators of the Reminder effects processor , has launched a crowdfunding project on Indiegogo to fund production of their new multichannel audio processor, The Godfather.
The Godfather is a four-channel effects processor, designed to match the form factor of Moog's Mother-32, DFAM & Subharmonicon. It gives you four independent channels of mixing functions and effects, including panning, compression, limiting, delay, filters, reverb and more.
Features:
4 input channels with complex mixing functions (Compressor, Side Chain, Limiter, Shape EQ, Pan, Stereo Width, Gain Staging)
Independent effects per channel
4 independent Delays
4 Infinite/Looper Feedback
4 Stereo Offset
4 Double Pulse Delay
13 HP/LP Filters
4 Saturators
Reverb with dedicated HP filter
2 assignable LFOs
4 independent Trigger Buttons
3 independent Triggering Modes for creative routing possibilities
4 CV IN
2CV OUT
MIDI IN/OUT
GATE IN/OUT
4 Channel Audio In
4 Channel Audio Out
OLED Display
60hp Eurorack format, with aluminum and wood case
*Note: Crowdfunding projects can involve risk, which is outlined at the project site.
The Godfather is available to project backers for about $843/€796
---