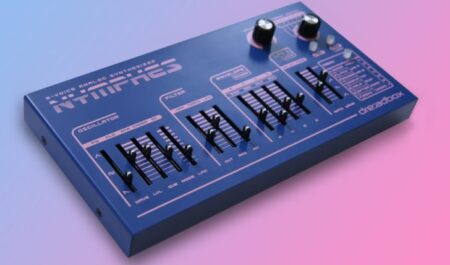 Dreadbox has released version 2 of the firmware for the Nymphes synthesizer.
The update includes MPE support, polyphonic aftertouch, new MIDI features and many more.
New in Nymphes version 2:
New features:
MPE support
Polyphonic aftertouch support
Polyphonic assignable targets
Preset import/export support
Factory presets can now be replaced
MIDI Channel Learn
Scaled Mode for slider control
Improvements:
SHIFT button behaviour changed
CC transmit on Preset Load
CC list reworked
All Notes Off and All Sounds Off CCs added
Reverb control added to Modulation matrix through CC
Modulation target: Mod Wheel on PW changed
Shortcut for Global settings reset
Bug fixes:
VCA envelopes scratching envelopes fixed
Voice Mode changing hanging notes
Find out more on Dreadbox website.
Das Keyboard 6 Professional - Begin to enjoy your modern workday.
Jazz Up Your Valentine's Day With Filmora
Filmora 12
Edit Anywhere,in Every Way.
New Year's Eve Party
Sam Ash Holiday Deals
AmpliTube 5 MAX $/€99.99 deal
MAX Madness - up to 83% off MAX music software bundles
TONEX Pedal
Christmas Tree Video
---