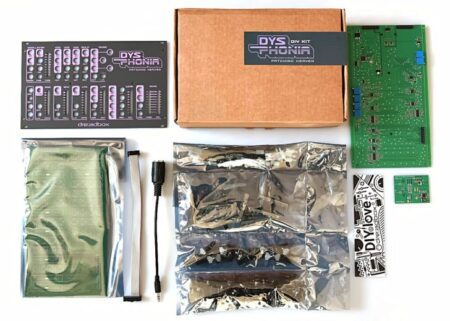 Dreadbox drops Dysphonia, a full synthesizer voice with open architecture, a single-run desktop and Eurorack synth that you can build it yourself and promises to take you to "patching heaven"
Available via an early-bird sale, only a single run of kits will be available, so the company encourages you to "buy now or cry later".
The analogue oscillator offers a choice of four waves, and you get three VCAs. There's an analogue LFO, low-pass and multimode filters and the hybrid echo that you will find on the Erebus synthesizer.
All of Dysphonia's components are included in the box, and it's said to be an ideal project for inexperienced DIYers.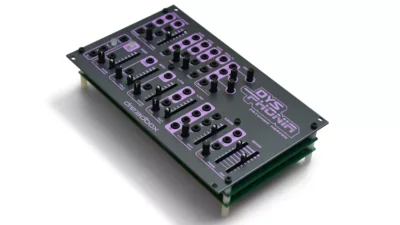 Features:
Full Voice Modular Synthesizer with Open Architecture
Powerful Sound Designing machine
It can be used as a Desktop or a Eurorack synthesizer
It comes along with a dedicated USB to Eurorack power converter
It is consisted of 13 individual sections
Ideal for inexperienced DIYers
Analog Oscillator with 4 waves
3x Analog VCA
Passive Signal Multiplier
CV and Audio 3-to-1 Mixer
High precision MIDI to CV/ Gate converter
1ms/stage Snappy AD Envelope
Wide range Analog LFO
24dB 4-pole Analog Self-Oscillating Low Pass Filter
12dB 2-pole Analog Multi mode Filter
Hybrid Echo (as found on the Erebus synthesizer)
Sophisticated digital Modulator with 4 different modes:
LFO – Wide range, 4 waveforms and delay function
RANDOM – Classic Sample & Hold or Key triggered with lag Filter
ENVELOPE – Snappy 1ms/stage, Attack – Decay or Attack – Release
CC – Modulation Wheel, Velocity, Aftertouch, Unipolar or Bipolar
Find out more and order your kit on the Dreadbox website.
The Dysphonia is available for pre-order for €185 plus VAT (regular price €230).
---