Cre8audio has introduced NiftyKEYZ, a Eurorack keyboard controller case that they say is 'epic AF', with four channels of CV control, MIDI In/Out, Splits, and arpeggiator, built-in utilities, expressive control and more.
NiftyKEYZ combines a full-sized 49-key synth-action MIDI controller keyboard with 112hp of space for Eurorack modules, so you can house all-in-one synths like the Moog Mother-32 and use them as keyboards, or create a custom keyboard-controlled modular rig.
NiftyKEYZ offers keyboard & MIDI control over 4 CV + Gate outs. NiftyKEYZ's MIDI implementation lets you use use each of its 4 CV + Gate outs as either a part of a fully patchable polyphonic instrument or to control four modular or analog instruments. Additionally, each voice can be split across multiple MIDI zones on the keyboard. This means you can create a 4-voice polyphonic instrument or a 3-voice instrument in part of the keyboard range, while splitting another voice into a monophonic instrument elsewhere.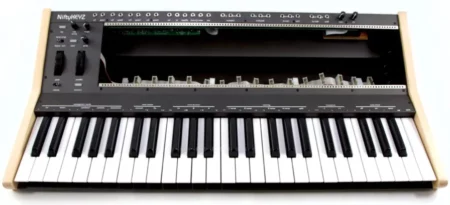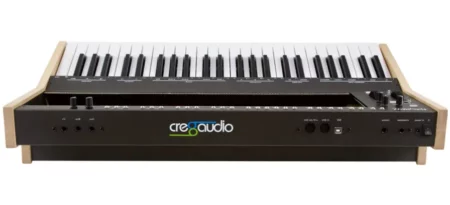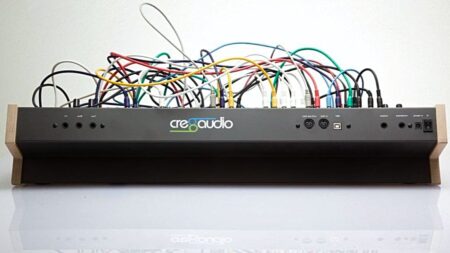 NiftyKEYZ also features a wide range of built-in control features for expressive performance and to give you new options for controlling your modular gear. These include a multi-mode arpeggiator, multi-mode clock-synced LFO, aftertouch, velocity, sustain/latch mode, internal clock, expression out and more. All of these performance features are tied to CV outs, offering a wide variety of modulation and control possibilities.
In addition to the NiftyKEYZ's CV & audio capabilities, it incorporates useful utility modules, like integrated 2x buffered multiples, 2x outputs and headphone out with dedicated controls.
NiftyKEYZ is also a very capable USB and 5 pin Din MIDI controller and device. It can not only take MIDI in from computers and external MIDI devices, but also send MIDI back out to control them. This means you can use NiftyKEYZ to control software-based instruments, other MIDI instruments, and/or let it be sequenced from DAWs, MIDI controllers, and sequencers.
Features:
Full size 49 key synth-action keybed with aftertouch
4x CV + gate outs – can be split by keyboard zone and used polyphonic or monophonic modes
CV out for Aftertouch, Velocity, Modwheel/LFO, Expression
Clock – internal clock and externally clockable + clock divider
2x buffered mults
Useable case area = 112hp for eurorack modules
Power output for modules
+12V – 1500mA
-12V – 1000mA
+5V – 1000mA
Multi-mode arpeggiator
Auto-chord function
Transpose function
Glide control
Swing control
Multi-mode clock synced LFO
Sustain pedal input (controls MIDI and gates)
Two volume controllable 1/4" ts mono outputs on its rear (mirrored 3.5mm outs on top)
Dedicated control for headphone out with 1/4" headphone jack on its rear
USB MIDI class-compliant – no drivers needed
MIDI in via USB and 5 pin Din
MIDI thru via 5 Pin Din and USB
The official user guide:


Cre8audio NiftyKEYZ is available now.
---