Chompi is a super-cute sampler that was inspired by the Casio SK-1.
The creators of CHOMPI – a new sampling keyboard that's designed to make musique concrète style audio manipulation fast and fun – shared this sneak preview of the portable sampler.
As the video demonstrates, CHOMPI is designed to make it easy to sample sounds and play them back, using the built-in keyboard.
Chompi is a new "magical" hardware sampler and looper that looks to prioritise personality and playability over a lengthy spec list. With its cute carry handle and big-buttoned interface, it is giving us strong 'My First Electronic Instrument' vibes, but might also be capable of charming more mature and experienced musicians, as well.
Built on the open-source Electro-Smith Daisy platform, Chompi puts the focus on a simple sample-based workflow that is designed to encourage experimentation. Hit the record button and you can immediately capture a sound via the built-in mic, and this is automatically mapped across the two-octave mechanical keyboard.
The interface provides big, dedicated controls for sampling, pitch, sample editing and effects. CHOMPI also features a looper, so you can record phrases and play over them, and even overdub layers.
Chompi offers seven voices of polyphony and gives you 14 preset slots. You can adjust the sample start/end point, there's an AD envelope, and the playback speed and direction of the sample can be controlled, as well. The multi-FX section is all on one knob, and provides a multimode filter, lo-fi saturation, a granular delay-reverb and more.
Recordings can be made using the tape-style stereo looper, which enables you to overdub sounds as many times as you like. The transport knob controls tape scrubbing, loop playback speed/direction and other features that are apparently waiting to be discovered.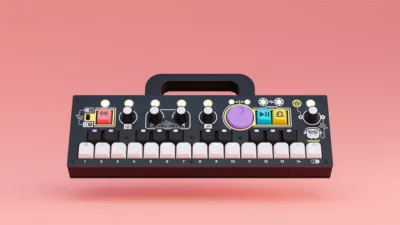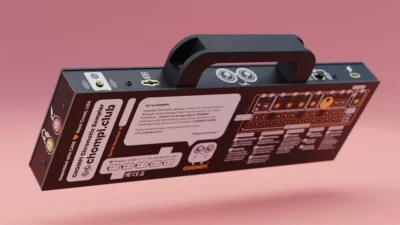 As you can see, Chompi has no screen, but RGB LED indicators and endless switching encoders give you multi-page parameter control. The MX Cherry switches on the hot-swap enabled keyboard can be replaced and customised as you wish, and the Chompi is said to be built to last.
USB-C powering means that it is also portable – assuming you have a power bank – while other connectivity includes stereo aux I/O, a headphone socket and MIDI I/O (all on 3.5mm jacks). Your samples are stored on a micro SD card.
Features:
Flexible hardware platform

Built on the powerful Daisy platform (by Electro-Smith) unlocking easy firmware updates, and flexible programmability options.
Screenless workflow, w/ RGB LED indicators & endless switching encoders for multi-page parameter controls
Utilizes the widely popular MX Cherry switches for its Hot-Swap enabled, two octave keyboard (switches & keycaps are infinitely customizable)
Custom Panel Enclosure allows for limited edition colorways (artist series already in the works)
Custom made BOBO Keycaps

Quirky sampling Engine

Unique Sampling Workflow Encourages User Exploration
7 Voice Polyphony
14 Slots to Save/Recall Presets
Sample Playback Speed & Direction Controls
Sample Start & End Point Controls (w/ Additional Attack + Decay Envelope)
Single Knob Multi-FX Section (Multi-Mode Filter, Lo-Fi Saturation, Granular Delay-Reverb, & More)

Tape-Style Looper

Sound-on-sound stereo looping engine
Transport knob provides control over: Manual Tape Scrubbing, Loop Playback Speed / Direction, as well as other additional 'easter eggs' to be found by advanced users
Chompi is said to have been inspired by portable old-school keyboards such as the Casio SK-1.
The developers will be making CHOMPI available via a Kickstarter project launching later this month, priced at $499 for backers (normally $599). Find out more info on the CHOMPI website.
via Petros, Goudron
---