Casper + Bastl have introduced a new Eurorack module, Aikido.
Aikido is a unique mixer, VCA, and compressor and the latest collaboration between Peter Edwards, aka Casper Electronics, and Bastl Instruments. The module is a spiritual successor to Bastl's quad VCA module Quattro Figaro (released in 2015) and Casper's concept module Party Mix, demoed at Superbooth in 2018.
Aikido is a performative quad VCA mixer, with flexible submix routing and two styles of integrated envelope followers. Clever normalization allows ready-to-go sidechain compression, expansion, and rapid routing experimentation.
Clickless mute switches and level faders make for immediate performability, while dedicated attenuverters on each channel make it a powerful and flexible quad VCA.
The main mix output is accompanied by individual VCA outputs, with patch-programmable cascading mix routing. The Side Chain envelope follower offers 3 different response curves, while the Spectral Follower cane set to focus on treble, mid or bass frequencies.
In a modular system, Aikido can become your central mixing hub or a powerful utility. Thanks to the envelope followers, it allows signals to interact and mix in new ways. Because the VCAs are DC coupled, Aikido can be used for flexible modulation routing as well.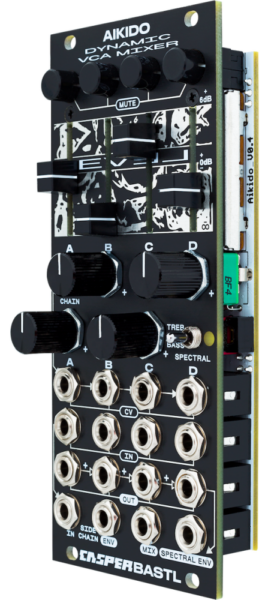 Features:
4 VCA channels, each with:

clickless mute with light indication
level fader with 6dB boost
CV input with attenuverter
input (DC coupled)
output (DC coupled) cascaded mixing

Mix output (AC coupled)
Side chain envelope follower

input (normalized to A input)
output (normalized to CV inputs) – switch to select response tim

Spectral envelope follower

input taken from Channel D output
patchable output
switch to focus the follower to low, mid, or high frequencies

Backside jumpers

select whether direct VCA outputs are pre/post Mute
cascaded mixing input and output (joins 2 Aikidos to 8 channel mixer)
main mix input and output (for chaining the normalized MIX outputs),
chainable with BUDDY
Aikido is available now, priced at €245 excluding tax.
---