Don Buchla's legendary 'Electric Music Box' is making a return
Buchla 200 Classic Reissue Series brings back classic module designs after 40 years
Buchla USA day has announced the return of the classic Buchla & Associates 200 Series, The Electric Music Box, originally produced from 1970-1978.
This announcement is distinct from the earlier announcement of the Tiptop Audio + Buchla 200 Series Eurorack Modules. The Euro versions are smaller and mass produced, so they are affordable.
The Buchla 200 Classic Reissue is a set of reissues of the original module designs, similar to the approach taken by Moog with their modular reissues or Sequential with its Prophet 5 reissue, so these modules are full-size, and match the look and functionality of the originals. However, unlike other companies that have done this type of OCD reissue, Buchla is offering affordable alternatives. By doing this, they are addressing the needs of existing owners and purists, and the broader audience of people that may have never used a Buchla module.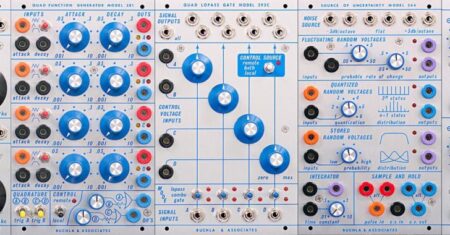 The original Buchla 200 series introduced many hallmarks of Buchla instruments, still in use in Buchla's modern 200e series, including the color-coded patching system and the ability to interface with digital computers. The Buchla 200 Classic Reissue modules will be compatible for installation in modern Buchla cases and can also be patched to 200e modules, so the classic designs and modern ones can complement each other.
The Reissue modules are being created with the help of Roman Filippov of Black Corporation and Joshua Holley of Malekko/Dark Place. Buchla says that these modules "represent the most authentic and accurate recreations of the original Buchla 200 series ever made, approaching the classic circuits with modern build techniques, while remaining faithful to Don Buchla's original vision at the time."
This initial wave of 200 Classic Reissue modules includes: Dual Oscillator Model 258, Quad Function Generator Model 281, Quad Lopass Gate Model 292 (rev c), Source of Uncertainty 266, Dual Voltage Processor 257, Triple Envelope Follower Model 230, and Mixer/Preamplifier Model 207. More modules in the series are expected to be announced soon.
The Buchla 200 Classic Reissue modules are available to order now, priced starting at $799. Shipping is expected to start in the second half of March, 2022. The company says that quantities are limited.
---