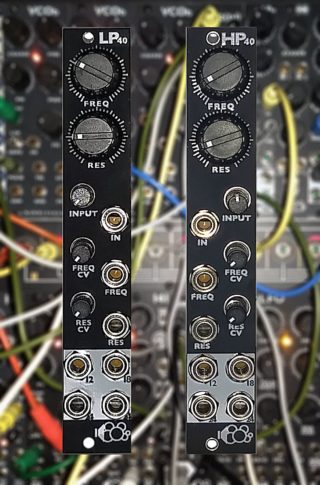 Bubblesound has introduced two new Eurorack filters, LP40 and HP40 – low-pass and high-pass filters based around the SSI2140, the successor to the legendary SSM2040.
The SSM2040 is considered by many to be the best sounding filter chip that came out of the '70s. The SSI2140 takes the original design and adds CV controlled Resonance.
What Bubblesound say about the two new filters:
"The LP40 and HP40 are small format filters that do not cut corners.
The Input is set up like the Dual SeM20, when the indicator line is straight up the input is at full, anything past that will over drive the input. The Frequency CV responds to both positive and negative voltages while the Resonance CV is 0-10V. These filters will track 1V/Oct with internal temperature compensation.
There are 3 output types and 4 outs; 12 and 18db have one output each and there are 2 24bd outputs. While using the 24db output you can take the second and send it to the HP40 to create a variable band width Band Pass while still using the 24db Low Pass.
The LP40 is an exceptionally versatile filter capable of smooth and creamy basses and with a turn of the resonance pot it becomes dripping acid. I have wanted to make a 2040 based filter for many years and to be making the LP40 with chips from the original manufacturer is something bubblesound is very proud of. And unlike the original SSM2040, the LP40 has a bass compensation feature that keeps the resonance and signal level balanced all the way down.
The HP40 is a unique filter. There have been very few High Pass filters over the years, let alone ones that resonate. The High Pass filters in the Roland polys were crucial their sound and with the HP40 those types of sounds are easy to make. But the real magic of the HP40 happens with you turn up the Resonance and let it go; from fragile and brittle leads that vanish into the air to sweeps and hollow thumping kick drums the HP40 is in a class by itself."
Technical Specifications:
LP40
Input; 1
Frequency CV: -10v/+10V
Resonance CV; 0-10V
Power Consumption
HP40
Input; 1
Frequency CV: -10v/+10V
Resonance CV; 0-10V
Power Consumption
Das Keyboard 6 Professional - Begin to enjoy your modern workday.
Jazz Up Your Valentine's Day With Filmora
Filmora 12
Edit Anywhere,in Every Way.
New Year's Eve Party
Christmas Tree Video
Sam Ash Holiday Deals
AmpliTube 5 MAX $/€99.99 deal
MAX Madness - up to 83% off MAX music software bundles
TONEX Pedal
The LP40 and HP40 filters are available now for $169.
---