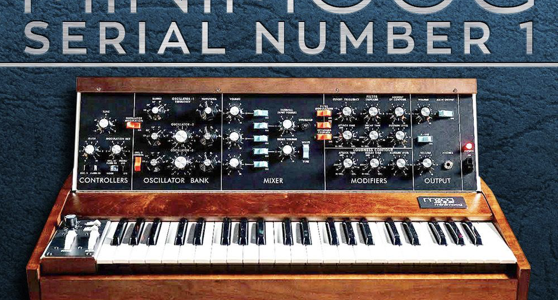 In honour of Bob Moog's 89th birthday, the Bob Moog Foundation, in collaboration with Moog Music, is excited to announce its raffle for serial #1 of the latest version of the Minimoog Model D, released in 2022.
Moog Music generously donated this one-of-a-kind coveted synthesizer, worth well in excess of $5,000, to support the Foundation's mission of carrying Bob Moog's legacy forward by inspiring people of all ages through the intersection of science, music, technology, and innovation.
The serial #1 Minimoog Model D being featured was produced at the Moog Music factory in Asheville, North Carolina. Built by hand to last a lifetime, the new Minimoog Model D delivers the revered quality, undefinable feel, and authentic sound of a pristine vintage Moog. The three-oscillator, monophonic, analog synthesizer is securely housed in a locally sourced Appalachian cherry cabinet and hand-finished aluminum chassis. Sounding as vibrant and deep as ever, its legendary low-pass ladder filter, powerful oscillators, and rich saturating mixer retain the exact component placement and through-hole design of a 1970s-era Minimoog Model D.
While no changes have been made to the original sound engine or audio signal path, the 2022 Minimoog Model D includes a series of popular functional modifications that expand this legendary instrument's sonic capabilities. These modifications include a dedicated analog LFO with triangle and square waveshapes, a premium Fatar keybed with velocity and after pressure available via top panel CV jacks with onboard trimpots, MIDI integration, and a mixer feedback modification which allows the Minimoog Model D to overdrive and scream with the turn of a knob. And, for the first time in its history, the Minimoog Model D now features a spring-loaded pitch wheel with center deadband, allowing for improved playability and wild performance flourishes. This newest edition also includes updates to the MIDI functionality, allowing for improved modern studio integration.
It should also be noted that this instrument is unique in being branded with serial number MD00001, setting it apart from other Minimoogs in yet another way.
Celebrate Bob Moog's birthday by playing a free online Minimoog stuffed with classic presets from songs by Phil Collins, Beastie Boys, Radiohead, Air, Kate Bush, Wings and more.
Free synth is part of the Minimoog Factory, a new Moog Music 'virtual experience' that draws inspiration from '90s video game and web design.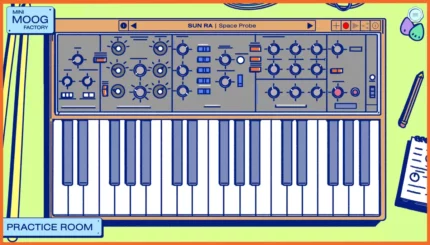 In addition, to celebrate what would have been the great Bob Moog's birthday, Moog Music has created a special online 'virtual experience' that celebrates arguably his greatest invention.
This features more than 45 classic artist presets and can be both played and recorded across three tracks (though not edited, sadly). There are some nice 'sleeve notes' that tell you plenty about the songs/artists and the sounds being recreated – names such as Wings, ELO, Bee Gees, Phil Collins, Moby, Air, Portishead and Radiohead all crop up.
Elsewhere in this 'Minimoog Factory' there's an online jukebox that contains 45 of the most influential 'Minimoog songs', though you'll need a Spotify account to access that.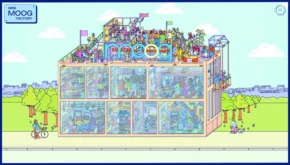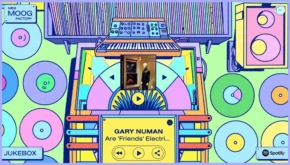 The colourful virtual experience draws inspiration from '90s video games and websites, and is a collaboration with design studio Pentagram. Other highlights include an archive room that enables you to explore the Minimoog's history, a theatre that offers access to a treasure trove of classic Moog-infused performances, and a 'build-a-synth' section that provides a PDF that you can print out, cut up and fold to create your own paper Minimoog.
As well as marking Bob Moog's birthday, the experience is part of the Moog company's 70th birthday celebrations, which kicked off last year when the Model D was reissued. Moog Music is also collaborating with the Bob Moog Foundation on a raffle that could see you winning a reissued Minimoog with serial number 1
Start exploring on the special Minimoog Model D microsite.
"The Bob Moog Foundation is deeply grateful to Moog Music for their support of our important work through the donation of serial #1 of the reissue of the legendary Minimoog synthesizer," noted Michelle Moog-Koussa, the organization's executive director. "All proceeds from this raffle will be of great assistance to the foundation in expanding the impact of our three projects: Dr. Bob's SoundSchool, the Bob Moog Foundation Archives, and the Moogseum. On the momentous occasion of Bob's 89th birthday, we are excited to celebrate our common heritage with Moog Music while helping propel his legacy forward."
The raffle is open for one month from today until 11:59pm (ET) on June 23rd. Raffle tickets for the serial #1 2022 Minimoog Model D are $20 each, six for $100, 14 for $200 or 40 for $500. Tickets for the raffle can be purchased via the Bob Moog Foundation website. All proceeds benefit the projects of the Bob Moog Foundation.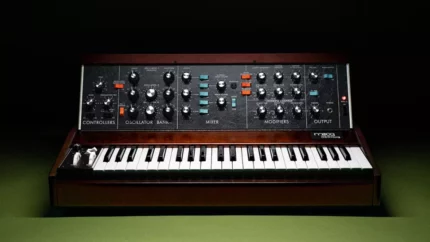 ---