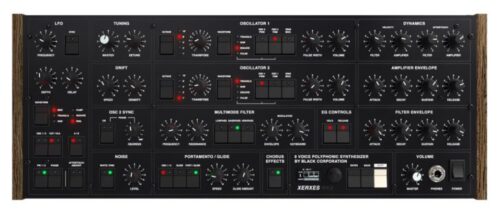 Black Corporation has introduced XERXUS MK2, a new version of their XERXES 8-voice analog synthesizer. And Black Corporation has opened pre-orders for their new version MK2.
The XERXES features digitally controlled analog oscillators per voice, a multimode analog filter, white and pink noise generator, 2 ADSR envelopes, 2 sync-able LFOs, unique analog BBD chorus with 3 modes, full MPE-based polyphonic aftertouch, and complete MIDI control, including polyphonic aftertouch and MPE.
"We are starting the preorder for our second run of XERXES, which will also be getting the MK2 treatment," notes Black Corporation's Roman Filippov. "Because of the semiconductor shortage and their increased prices, this run will be limited to 100 black edition units and we are required to raise the market price of the synth. To make up for the price increase, the new and improved XERXES will have a completely updated VCA section, balanced outputs, and audio over USB, in addition to several improvements under the hood."
The XERXES MK2 is available to pre-order, with a total price of $4499, including worldwide shipping.
---