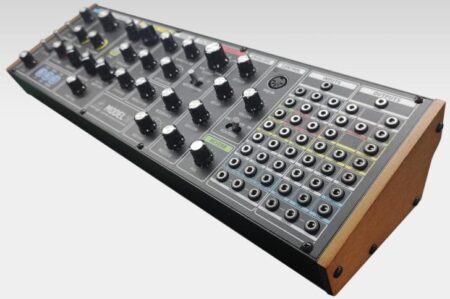 Behringer today introduced the Model 15 semi-modular Euro-format all-in-one synthesizer.
The company says that the Model 15 semi-modular synthesizer is based on the legacy Model 15/35/55 circuitry, but with some added features. The Behringer Model 15 appears to directly copy the design of the Moog Grandmother, though, which itself was based on circuits from vintage Moog modular gear.
The front panel of the Grandmother:

The Model 15 has the same synth architecture and controls as the Grandmother, but moves patch points to the right side of the panel, as shown below.
In case there was any doubt about Behringer's reference for the Model 15, they copied the Grandmother's colors: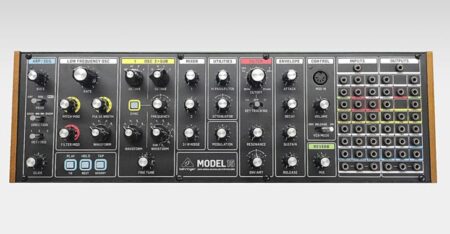 Like the Grandmother, the Model 15 also features a step sequencer and arpeggiator. But, while the original Grandmother incorporates an analog spring reverb, the Model 15 replaces this with a digital simulation.
Features:
Analog synthesizer with dual VCO design
Semi-modular design requires no patching for immediate performance
Analog signal path
Dual oscillators with 4 waveforms, oscillator sync, pulse width modulation and sub-oscillator
24 dB ladder filter with resonance
Step sequencer with 3 separate 256-step memory slots, key transpose and multiple playback modes
Arpeggiator, featuring hold function and multiple playback modes for recording and playing patterns
Fully analog LFO with 4 waveforms and dedicated controls for pitch, filter and pulse width modulation
Spring reverb emulation
48 patch points for modular connectivity
37 controls give you direct and real-time access to all important parameters
Eurorack format – module can be transferred to a standard Eurorack case
16-voice Poly Chain allows combining multiple synthesizers for up to 16 voice polyphony
MIDI implementation with MIDI channel and Voice Priority selectio
The Behringer Model 15 is expected to be priced at $299. Like its other recent introductions, Behringer is not putting the Model 15 into production at this time because of parts constraints, so availability is to be announced.
Jazz Up Your Valentine's Day With Filmora
Filmora 12
Edit Anywhere,in Every Way.
New Year's Eve Party
Christmas Tree Video
Sam Ash Holiday Deals
AmpliTube 5 MAX $/€99.99 deal
MAX Madness - up to 83% off MAX music software bundles
TONEX Pedal
Das Keyboard 6 Professional - Begin to enjoy your modern workday.
---