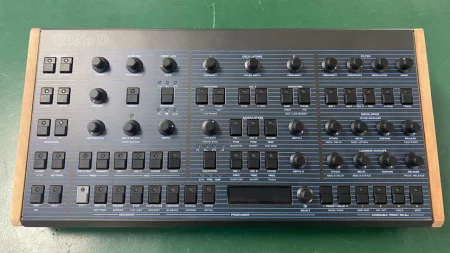 Behringer unveils an Oberheim OB-Xa-inspired desktop synth. Behringer UB-Xa D – a reboot of the classic Oberheim OB-Xa synth – has been in development for a long time.
We were being informed it was almost ready way back in 2018, and then came the news that it was being beta tested in 2021, but that was before it became clear that chip shortages were causing delays in manufacturing of multiple new Behringer products.
What they say about the upcoming Behringer UB-Xa Desktop synth:
"While we're all waiting for chips to finally produce and ship the UB-Xa, our engineers haven't been sitting still and in the meantime finished the prototype of the desktop version. Like with all our other desktop modules, this one will be rack mountable, too. We're super excited and hope you love it, too"

Audio demo of the final design for the UB-Xa keyboard version:
The global chip shortage is now entering its third year, triggered by a variety of causes, including: growing demand for integrated circuits; the impact of the global pandemic; and the Trump adminstration's trade war with China, which added tariffs to semiconductors imported from China and imposed sanctions on Chinese semiconductor manufacturers. Several synth makers have attributed product shortages and increased prices to the trade war and the global chip shortage.
Behringer has been hard at work on a desktop version, the UB-Xa D, for those who do not need a keyboard.
Apparently, it might not arrive for a good while yet, though.
Das Keyboard 6 Professional - Begin to enjoy your modern workday.
Jazz Up Your Valentine's Day With Filmora
Filmora 12
Edit Anywhere,in Every Way.
New Year's Eve Party
Sam Ash Holiday Deals
AmpliTube 5 MAX $/€99.99 deal
MAX Madness - up to 83% off MAX music software bundles
TONEX Pedal
Christmas Tree Video
---