Behringer has officially introduced the Behringer PRO-800, an 8-voice polysynth module – a reinvigorated reboot of the Sequential Circuits Prophet-600, and Behringer says that its new Prophet-inspired Pro-800 is "the world's first analogue 8-voice polysynth that is affordable for everyone" – have a price and release date.
It was teased in 2020 and said to be "almost there" early in 2021, the Pro-800 has two more voices than the synth that inspired it, with each voice offering two VCOs.
The Pro-800 has been created with the help of synth designer GliGli, who specialises in modding the Prophet-600, and his improvements are present and correct here. There's also a non-standard noise generator that was only found on the rare Japanese editions of the Prophet-600, full MIDI CC control, USB MIDI, a dual polyphonic sequencer, a dedicated LFO with six waveshapes and VCA overdrive.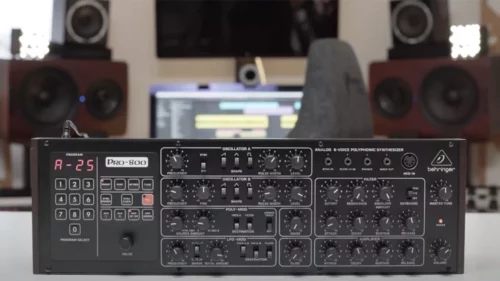 The Behringer version also cuts manufacturing costs, compared to the original design, by eliminating the keyboard, shrinking the interface to fit the Eurorack format and using modern mass-production build techniques.
Some may question Behringer's decision to retain the worst aspects of the original's interface, the membrane switch control and limited LED display. But, by retaining these elements, the Behringer PRO-800 copies the look of the original, which will increase the perceived value of the synth for some, compared to similarly priced synths that have much more powerful synth engines, like Behringer's own Deepmind 6, the ASM Hydrasynth Explorer or the Korg Modwave. You can get an overview of the Pro-800 in the video above. The Behringer PRO-800 synthesizer is expected to be available in April 2023, priced at $599.
---